22 February 2018
Osram launches Synios P2720 940nm-wavelength IR LED to reduce red glow in 2D facial recognition
© Semiconductor Today Magazine / Juno PublishiPicture: Disco's DAL7440 KABRA laser saw.
Osram Opto Semiconductors GmbH of Regensburg, Germany says that, by using a wavelength of 940nm, its new Synios P2720 LED reduces the red glow that can occur with light sources in the short-wave infrared range. Up to now, the sensitivity of IR cameras for 2D facial recognition was only good if the light source had a wavelength of 850nm. The cameras have been further developed to give them greater sensitivity in longer-wavelength ranges, so 940nm light sources can now be used – which in turn improves the overall performance of the system.
Bright and uniform illumination of the user's face or eyes is particularly important for facial recognition and also for eye-tracking systems. The Synios P2720 offers an output of 1150mW at 1A. Due to this high overall output, it has a radiant intensity of 360mW/sr.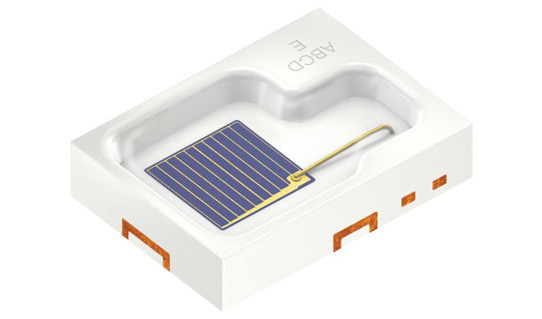 Picture: Osram Opto's new Synios P2720 940nm infrared LED.
The Synios P2720 has the same footprint as the 850nm version. Measuring only 2.0mm x 2.75mm x 0.6mm, the IRED is therefore suitable for space-critical applications. Since the new IRED has no optics, its compact dimensions mean that users can install secondary optics in line with their requirements.
Already available for initial customer projects, the new Synios P2720 IRED for 2D facial recognition is the latest addition to Osram Opto's existing portfolio for biometrics.
Visit: www.osram-os.com