25 January 2018
Anokiwave opens mmW verification and test lab
© Semiconductor Today Magazine / Juno PublishiPicture: Disco's DAL7440 KABRA laser saw.
Anokiwave Inc of San Diego, CA, USA – which provides highly integrated silicon core chips and III-V front-end integrated circuits for millimeter-wave (mmW) markets and active antenna-based solutions – has opened a millimeter-wave design verification laboratory in its San Diego office, enabling rapid characterization of its product portfolio of mmW ICs for 5G, SatCom, and radar markets.
The lab includes test instrumentation and wafer probing capability up to 50GHz that supports both rapid characterization of new products and increased applications engineering evaluation capacity.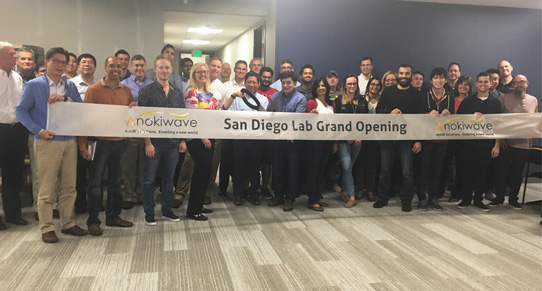 "Investing in the facility in San Diego will increase our design verification capacity, which ultimately improves our time-to-market," says founder & chief technology officer Nitin Jain. The new lab is "the latest example of Anokiwave's commitment to the emerging mmW 5G, SatCom and radar markets," he adds.
Anokiwave says that the new lab space allows it to continue to aid the evolution of the active antenna market with industrialized, production-ready products for millimeter-wave active antennas.
Anokiwave's IC family now spans all major mmW 5G bands with addition of 24.25-27.5GHz quad core IC
Anokiwave showcasing latest products for 5G, radar and SatComs at IMS
Anokiwave becomes guest member of 3GPP to promote development of global 5G standard
Tags: Radar
Visit: www.anokiwave.com