24 January 2018
Arkesso's Mike Krames named IEEE Fellow
© Semiconductor Today Magazine / Juno PublishiPicture: Disco's DAL7440 KABRA laser saw.
Dr Mike Krames, president of Arkesso LLC of Palo Alto, CA and Austin, TX, USA (which provides wide-bandgap semiconductor consulting and technology development), has been made a Fellow of the Institute of Electrical and Electronics Engineers (IEEE) for leadership in gallium nitride (GaN)-based light-emitting device physics and its commercialization.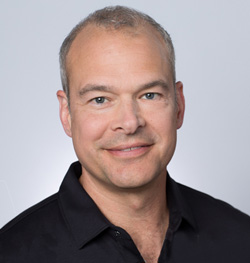 Picture: Mike Krames.
Krames led technology teams at Hewlett-Packard Co, Lumileds, Philips and Soraa before forming Arkesso, in 2015. Over two decades his work has contributed to advances enabling several LED product 'firsts', including automotive headlamps, true replacements for directional halogen lamps, and high-color-gamut flat-panel displays. In addition to many commercial achievements, Krames' work has led to fundamental improvements in the understanding of GaN-based device physics, including identifying Auger recombination as the main cause behind the droop in luminous efficiency seen in LEDs at high drive currents. While at Soraa, Krames pioneered gallium nitride on gallium nitride (GaN-on-GaN) technology as a platform for LEDs, resulting in what is claimed to be the most efficient high-power, visible-spectrum LED.
Krames is recognized for his expertise in LEDs and their applications for lighting and displays. He has served on many roundtables and panels for the US Department of Energy and Basic Energy Sciences, and is chair of the SPIE Photonics West conference on LEDs. Krames has authored more than 80 peer-reviewed publications and more than 100 granted US patents, and has served on several boards of directors/advisors. He earned a Bachelor of Science degree in Electrical Engineering (High Honors) from University of Texas, Austin, and Master of Science and Doctor of Philosophy degrees in Electrical Engineering from University of Illinois at Urbana-Champaign.
Tags: GaN-on-GaN LEDs
Visit: www.arkesso.com