25 January 2018
DISCO completes construction of new Kyushu building
© Semiconductor Today Magazine / Juno PublishiPicture: Disco's DAL7440 KABRA laser saw.
Tokyo-based equipment maker DISCO Corp - which makes semiconductor manufacturing equipment including chemical mechanical polishing (CMP) systems and laser-based ingot slicing equipment and processes for silicon carbide (SiC) - has completed construction of a new, two-storey building in Kyushu, Japan, that will begin operation on 29 January.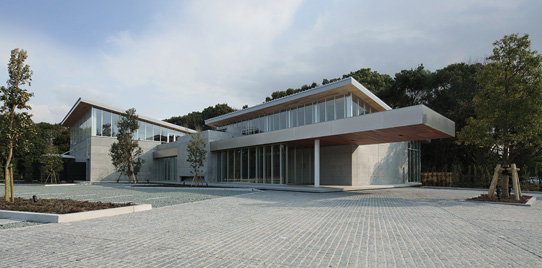 Picture: Disco's new Kyushu Branch building.
Built on a site covering about 4772m2, the building's total floor space is 1381m2. Of this, the applications laboratory (in which processing tests are performed) is about 249m2 (expanding more than three-fold from the old building's 68m2). Construction began in March 2017 and was completed on 15 January. Relocation should be completed at the beginning of February. Total investment in the site and building amounts to about 1 billion yen.
DISCO says that it has not only established an environment capable of quickly supporting customer requests but it has also enhanced its BCM (business continuity management) support capabilities by adopting seismically isolated reinforced-concrete structures.
Disco develops DAL7440 KABRA laser saw for 8-inch SiC wafers
Disco's KABRA!zen fully automates KABRA laser slicing technology
Disco develops laser ingot slicing method to speed SiC wafer production and cut material loss
Disco launches fully automatic polisher for CMP of difficult-to-process materials including sapphire
Tags: SiC Sapphire substrates
Visit: www.disco.co.jp