19 January 2018
University of Bristol's Martin Kuball elected as SPIE Fellow
© Semiconductor Today Magazine / Juno PublishiPicture: Disco's DAL7440 KABRA laser saw.
Professor Martin Kuball, who heads the University of Bristol's Centre for Device Thermography and Reliability (CDTR) - a research centre focusing on improving the thermal management, electrical performance and reliability of semiconductor devices, circuits and their packaging - has been elected as a new Fellow of the International Society for Optics and Photonics (SPIE).
Each year, SPIE promotes members as new Fellows of the Society, and Kuball is one of 73 new Fellows for 2018. Fellows are Members of distinction who have made significant scientific and technical contributions in the multi-disciplinary fields of optics, photonics, and imaging. They are honoured for their technical achievement, for their service to the general optics community, and to SPIE in particular.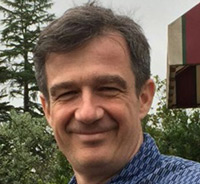 Picture: Professor Martin Kuball.
Kuball leads a team of 20 international researchers and PhD students and works with industry and academia worldwide to develop next-generation technology for communications, microwave and power electronics enabling the low carbon economy.
"Our research continues to be internationally recognized and we are leading the field in this area," says Kuball.
This is the second major recognition for Kuball and his CDTR team after they won the University Research Group of the Year at TechWorks Awards in November. The awards celebrated the year's key electronics innovations, people and companies from across the UK and Ireland. Although these were the inaugural TechWorks Awards, they followed on from the NMI Awards, which ran from 2001 to 2016.
The Research Group of the Year category specifically promotes teams that demonstrate excellent liaison and partnership with industry. The award was given for the group's very strong research portfolio in gallium nitride (GaN) device reliability for next-generation communications and power applications and its excellent and broad-ranging relationship with industry, working with companies such as MACOM, Airbus, MBDA and Plessey. The judges were also impressed by the group's attention to equality and diversity as an integral part of capability development.
UK's EPSRC awards University of Bristol £4.3m grant to develop GaN-on-diamond microwave technology
Tags: GaN-on-diamond
Visit: www.bristol.ac.uk/physics/people/martin-h-kuball/overview.html
Visit: http://spie.org/about-spie/fellows-and-senior-members/fellows