22 January 2018
Silicon photonics reaches tipping point, with transceivers shipping in volume
© Semiconductor Today Magazine / Juno PublishiPicture: Disco's DAL7440 KABRA laser saw.
Silicon photonics is still a small market today, with sales at the die level estimated to be $30m in 2016, but the market has reached its tipping point (as transceivers are now shipping in volume), and will rise to $560m at the chip level and almost $4bn at the transceiver level in 2025, forecasts market research & strategy consulting company Yole Développement in its technology & market report 'Silicon Photonics'.
Silicon photonics technology will grow from a few percent of total optical transceiver market value in 2016 to 35% in 2025, mostly for intra-data-center communication, the firm adds.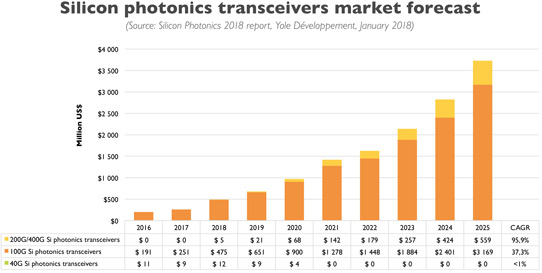 The strongest demand is for 400G. In parallel, 200G could be just an intermediate step between 100G and 400G. "The next evolution is to develop a 400G optical port over a single fiber across 500m at less than $1 per gigabit and with power <5mW/Gb," says senior technology & market analyst Dr Eric Mounier. One terabit per second rates should follow. Although the wafer area this accounts for will be a minute part of the worldwide silicon-on-insulator (SOI) market, it will represent significant value because of the SOI wafer's high price, the report notes.
"We are only at the very beginning, as there is massive ongoing development worldwide for further integration," believes Mounier. "The recent involvement of large integrated circuit foundries, such as TSMC's relationship with Luxtera and GlobalFoundries with Ayar Labs, are very encouraging signs showing the big promise for silicon photonics."
The 'Zero-Change' processes currently in development – i.e. manufacturing optical components without making any changes to a complementary metal oxide semiconductor (CMOS) process – are targeting future inter-chip optical interconnects that could represent huge market volumes, notes the report. Silicon photonics is at the maturity level of the electronics industry in the 1980s, and there are still challenges to overcome. For all these challenges, technical breakthroughs will be necessary, and are detailed in Yole's silicon photonics roadmap:
Laser source integration: lasers are still in competition with vertical-cavity surface-emitting lasers (VCSELs) for low distance, and developments of silicon-based lasers are no longer progressing. Quantum dot lasers could be a solution in the long term, as they are less temperature sensitive.
Modulators: smaller-size modulators are required, and silicon photonics offers the advantage of modulator integration.
Assembly and testing: more advances in lower-cost packaging and wafer-level testing are needed.
Design and software: specific software is required for photonics with pre-defined models.
Supply-chain maturation similar to the semiconductor supply chain.
New manufacturing solutions: for example, a new trend is to have a zero-change approach on CMOS lines.
Higher-distance transmission.
Tags: Silicon photonics
Visit: www.i-micronews.com/category-listing/product/silicon-photonics-2018.html