19 July 2018
Avancis reopens CIGS PV module production facility in South Korea
© Semiconductor Today Magazine / Juno PublishiPicture: Disco's DAL7440 KABRA laser saw.
Copper indium gallium diselenide (CIGS) thin-film photovoltaic module maker Avancis GmbH of Torgau, Germany has celebrated the reopening of its CIGS PV factory in Ochang, South Korea. The ceremony was held with representatives from Avancis Korea, Avancis Germany and professor Peng Shou - CEO of parent company China National Building Materials Group Corporation (CNBM), which acquired Avancis in 2014 - as well as government representatives from the Korean province of Chungbuk.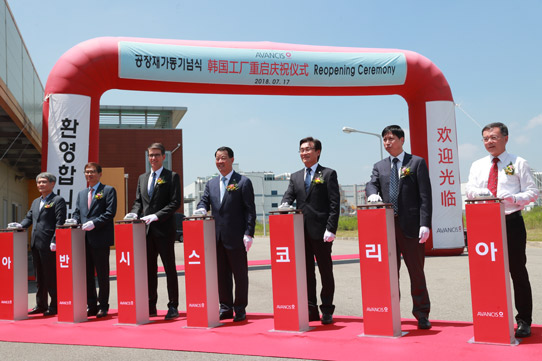 Avancis completed the 100MW factories in South Korea in 2012 but did not ramp them up, as conditions for the former joint venture Hyundai-Avancis had been assessed as not optimal. Last year, the South Korean government targeted to cover 20% of the country's total electrical energy production from renewable energy sources by 2030, presaging growth in the South Korean PV market.
"We have worked hard and long to get back to our factory in South Korea," says Avancis' CEO Oliver Just. "Of course, this does not work without a forward-thinking and strong parent company like CNBM. The decisive factor was and still is in times of overcapacities and price declines in PV modules; we are nevertheless experiencing an increasing demand for our aesthetic premium modules in the solar façade sector worldwide," he adds. "With the return of Avancis Korea, we have the opportunity to manufacture and market our high-quality CIGS modules for Korea and the Asian market."
All preparatory measures are in full swing for the start of production at Avancis Korea. As part of the update actions, the general overhaul of the equipment and HR hiring process will be completed by end of 2018. Ramping of production is scheduled for first-half 2019.
Tags: Avancis CIS PV module
Visit: www.Avancis.de
Visit: www.cnbm.com.cn/EN