4 July 2018
GTAT opens new silicon carbide manufacturing plant, corporate HQ and R&D center
© Semiconductor Today Magazine / Juno PublishiPicture: Disco's DAL7440 KABRA laser saw.
GTAT Corp of Hudson, NH, USA (which produces crystal growth equipment for the solar, power electronics and optoelectronics industries as well as sapphire material for precision optics and other specialty industries) has opened its new silicon carbide (SiC) manufacturing plant with a ribbon-cutting ceremony attended by state and local officials. The facility also includes the firm's new corporate headquarters as well as its advanced R&D center.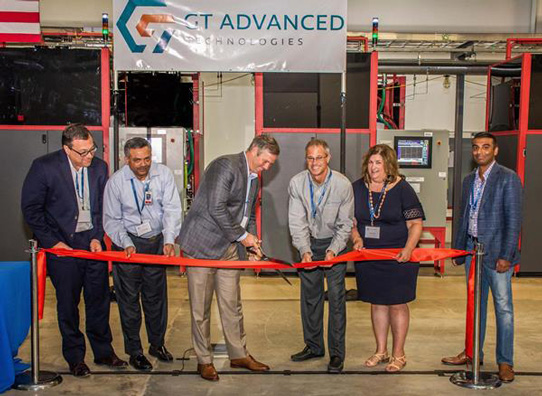 Picture: GTAT opens new SiC manufacturing facility, from left to right: board member Alexandre Zyngier, chief technology officer Dr P.S. Raghavan, president & CEO Greg Knight, VP global operations Joe Loiselle, VP & chief financial officer Michele Rayos, and Whitebox Advisors LLC portfolio manager Amit Patel.

"The opening of our new silicon carbide production facility represents a significant milestone for the company's transition from an equipment provider to a materials company," says president & CEO Greg Knight. The facility "positions us as one of the only companies in the world with the know-how and capacity to offer high-quality silicon carbide material for a growing number of power electronics applications in high-growth markets," he adds. "Our expertise in crystal growth equipment, managing supply chains and deep domain knowledge in a number of advanced materials has given us a competitive advantage in meeting the growing demand for wide-bandgap semiconductors," he reckons.
GTAT says that it is continuing to commercialize other technologies such as its new tube filaments used to lower the cost of producing polysilicon and its continuous Cz feeder, which lowers the cost of producing monocrystalline silicon wafers for the solar industry.
GTAT launches SiC boule growth furnace addressing emerging demand for 6" wafers
GT introduces 100mm silicon carbide production furnace
Visit: www.gtat.com