31 July 2018
Northrop Grumman delivers first GaN G/ATOR system to US Marine Corps
© Semiconductor Today Magazine / Juno PublishiPicture: Disco's DAL7440 KABRA laser saw.
Northrop Grumman Corp of Redondo Beach, CA, USA has delivered the first AN/TPS-80 Ground/Air Task-Oriented Radar (G/ATOR) that incorporates high-power and high-efficiency gallium nitride (GaN) antenna technology, further improving the system's operational capabilities. The system was delivered to the US Marine Corps ahead of schedule and is the seventh G/ATOR system delivered in the low-rate initial production (LRIP) phase of the program.
All subsequent G/ATOR LRIP and full-rate production systems will now incorporate GaN technology, which provides cost savings and performance benefits including enhanced system sensitivity and increased reliability.
Delivery of the first GaN G/ATOR system follows the delivery of six LRIP systems to the Marines that began in early 2017. Using two of those six systems, the Marine Corps achieved G/ATOR Initial Operational Capability (IOC) of the air surveillance mission in February. The remaining four systems will establish IOC for the counter-battery mission later this year. As a result, G/ATOR systems, trained Marines and associated logistics support are now in operational service with Marines.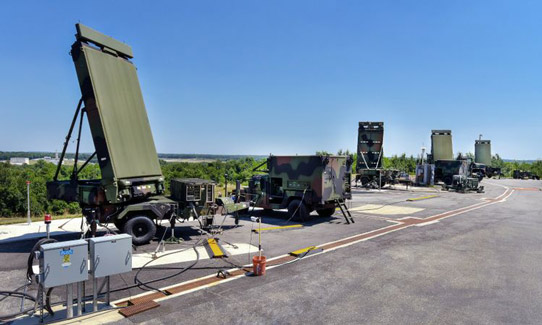 Picture: Four G/ATOR systems preparing for fielding located at Northrop Grumman's Stoney Run test range in Baltimore.
The AN/TPS-80 G/ATOR is an active electronically scanned array (AESA) multi-mission radar that provides comprehensive real-time, 360-degree situational awareness against a broad array of threats including fixed-wing aircraft, helicopters, cruise missiles, unmanned autonomous systems (UAS), and rockets, artillery and mortar. It is rapidly deployable worldwide to meet US Marine Corps needs and includes the latest cyber and digital beam forming technology that enables the radar to perform multi-mission tasks at significantly lower operation and maintenance costs compared to existing USMC radar systems.
"The Marine Corps are the first to take delivery of a production ground-based multi-mission AESA radar that incorporates this advanced GaN technology," says Roshan Roeder, VP, land & avionics C4ISR division, Northrop Grumman. "The incorporation of this advanced technology in production radars is unique to the Marine Corps and enables G/ATOR to provide additional mission capability to the warfighter at an affordable cost."
Both the Marine Corps and Northrop Grumman continue to make detailed preparations to execute the full-rate production program, which is scheduled to begin in early 2019.
Additionally, given the AN/TPS-80's open architecture design, Northrop Grumman was awarded a contract through the Office of Secretary of Defense Strategic Capabilities Office in 2016 to support the addition of a fire control mission.
Northrop Grumman-built GaAs-based G/ATOR system approved for early fielding, prior to full-rate production of GaN-based systems
Northrop Grumman delivering first GaN-based G/ATOR systems under latest LRIP award
Tags: Northrop Grumman
Visit: www.northropgrumman.com