19 July 2018
Micro-LED market to grow from $2.7bn in 2019 to $10.7bn in 2022, mainly in advanced displays
© Semiconductor Today Magazine / Juno PublishiPicture: Disco's DAL7440 KABRA laser saw.
The global micro-LED market will grow from $2.7bn in 2019 to $10.7bn in 2022, forecasts analyst firm n-tech Research in its report 'Micro-LED Market Opportunities: 2018-2027'.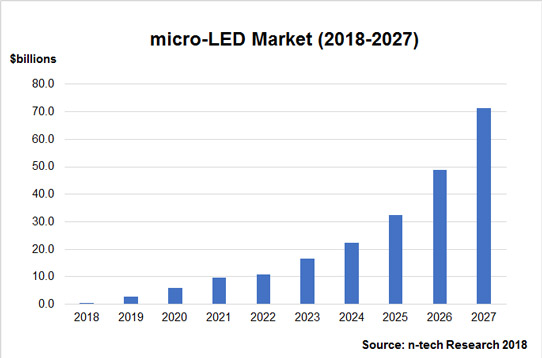 Micro-LEDs have superior performance qualities to other advanced display technologies. They have already proven superior to LCDs and OLEDs through numerous working prototype evaluations. Such superiority will be an immediate enabling factor in near-eye AR/VR (augmented reality/virtual reality) projectors and automotive HUDs (heads-up displays). Such applications require a combination of small form factor, low weight, super-high resolution and super-high brightness.
Another lucrative opportunity for micro-LEDs is the smart watch market, where the combination of extremely low power consumption and very strong brightness make micro-LEDs an obvious choice for wearable displays. n-tech sees this segment generating $1.6bn in 2022.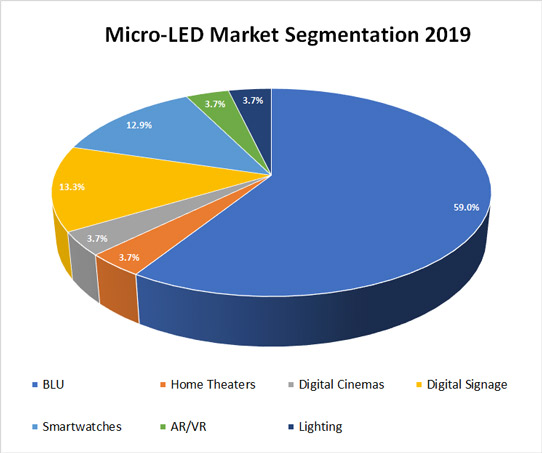 Extra-large displays (as used in video walls, digital cinemas, digital signage and home theaters) are expected to greatly benefit from the scalability of micro-LED technology to large areas (as already demonstrated by Sony and Samsung). Micro-LEDs also offer the 'giant screen' sector the possibility of hybridization with other functionalities, and compatibility with flexible and transparent display designs, says n-tech.
However, there are still applications that micro-LEDs will have a hard time penetrating, such as smartphones, tablets and regular TV market, where LCD and OLED technologies will continue to do well, believes n-tech. In these markets benefits from micro-LEDs are not very obvious, although low power consumption could be a selling feature for tablets and smart phones, concludes the market research firm.
Tags: LED market
Visit: www.ntechresearch.com/market-reports/microled-market