5 June 2018
Littelfuse adds GEN2 1200V Schottky diodes to SiC power semiconductor device range
© Semiconductor Today Magazine / Juno PublishiPicture: Disco's DAL7440 KABRA laser saw.
At PCIM Europe 2018 (Power Conversion and Intelligent Motion) in Nuremberg, Germany (5-7 June), Littelfuse Inc of Chicago, IL, USA, which provides circuit protection technologies (including fuses, semiconductors, polymers, ceramics, relays and sensors), has introduced an expanded portfolio of silicon carbide (SiC) power semiconductor devices with the addition of five GEN2 Series 1200V, 3L TO-247 Schottky diodes and three GEN2 Series 1200V, 2L TO-263 Schottky diodes. Compared with silicon devices, GEN2 SiC Schottky diodes dramatically reduce switching losses and allow for substantial increases in the efficiency and robustness of power electronics systems, says the firm.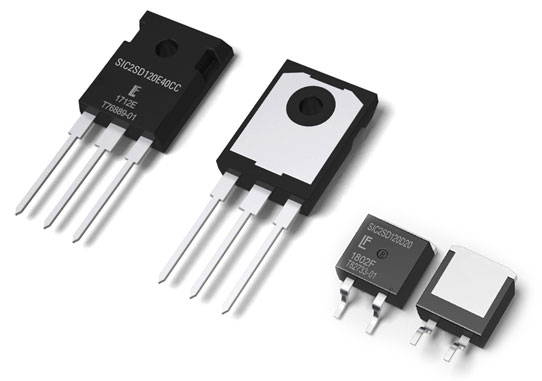 Picture: Littelfuse's new GEN2 1200V 3L TO-247 and 2L TO-263 packaged SiC Schottky diodes.
High-efficiency benefits that SiC technologies enable offer multiple advantages to the designers of electric vehicle (EV) chargers, data-center power supplies and renewable energy systems, notes Littelfuse. Because the GEN2 SiC Schottky diodes dissipate less energy and can operate at higher junction temperatures than many alternative solutions, they require smaller heat sinks and enable a smaller system footprint. End-users can benefit from more compact, energy-efficient systems and a potential lower total cost of ownership, adds the firm.
The 3L TO-247 GEN2 SiC Schottky diodes are available with current ratings of 10A, 15A, 20A, 30A and 40A. The 2L TO-263 GEN2 SiC Schottky diodes are available with current ratings of 10A, 15A and 20A. All have negligible reverse recovery current, accommodate high surge currents without thermal runaway, and operate at junction temperatures as high as 175°C. They are suitable for applications that require improved efficiency and reliability and simpler thermal management than standard silicon bipolar power diodes can provide, such as:
power factor correction (PFC);
buck/boost stages in DC-DC converters;
free-wheeling diodes in inverter stages (switch-mode power supplies, solar, UPS, industrial drives);
high-frequency output rectification; and
electric vehicle (EV) charging stations.
"These GEN2 SiC Schottky diodes in 3L TO-247 and 2L TO-263 packages complement the 1200V SiC MOSFETs and other GEN2 1200V SiC Schottky diodes already available from Littelfuse," says Michael Ketterer, global product marketing manager, Power Semiconductors, Semiconductor business unit at Littelfuse. "We continue to strengthen our broad product portfolio which, after the acquisition of IXYS, positions Littelfuse as a tier-1 supplier for power semiconductor devices."
GEN2 Series SiC Schottky diodes are available in TO-247-3L and TO-263-2L packaging in tubes in quantities of 450. Sample requests may be placed through authorized Littelfuse distributors worldwide.
Littelfuse launches 1200V SiC MOSFETs with 120mΩ and 160mΩ on-resistance at APEC
Littelfuse completes acquisition of IXYS
Littelfuse launches its first GEN2 1200V SiC Schottkys
Tags: IXYS SiC Schottky barrier diodes
Visit: www.mesago.de/en/PCIM/main.htm
Visit: www.littelfuse.com