6 March 2018
EPC9204 and EPC9205 GaN power modules deliver over 1400W per cubic inch for 48V–12V DC-DC and up to 10MHz for point-of-load power conversion
© Semiconductor Today Magazine / Juno PublishiPicture: Disco's DAL7440 KABRA laser saw.
Efficient Power Conversion Corp (EPC) of El Segundo, CA, USA – which makes enhancement-mode gallium nitride on silicon (eGaN) power field-effect transistors (FETs) for power management applications – has launched two new GaN power modules for DC-DC conversion, increasing efficiency across the 48V to point-of-load power architecture. The EPC9205 is a high-power density PCB-based power module for 48V–12V conversion while the EPC9204 addresses 20V–point-of-load conversion with an ultra-thin-profile PCB-based power module.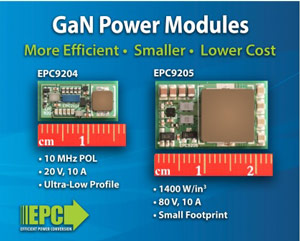 The EPC9205 is an 80V, 10A PCB-based power module featuring the 100V EPC2045 eGaN FET for plug & play evaluation of the high performance gained with gallium nitride power transistors. The module exceeds 1400W/in3 per cubic inch in a 48V–12V application, and occupies less than one-tenth of a cubic inch of board space. Applications include the high-performance servers needed for demanding computing applications such as multi-user gaming systems, autonomous cars, artificial intelligence, and cryptocurrency mining.
The EPC9204 is a 20V, 10A PCB-based power module featuring the 30V EPC2111 eGaN IC capable of operating up to 10MHz. This high-frequency capability reduces the size of the passive components, resulting in an ultra-low profile of just 1.2mm from the PCB board. Applications benefitting include point-of-load power conversion for servers, thin-form-factor mobile devices, and USB-C.
"As expectations for increasingly power-hungry applications expand while the conflicting desire for equipment to be small and lightweight persists, reducing size and decreasing power consumption is critical," says CEO & co-founder Alex Lidow. "The efficiencies achieved by the EPC9204 and EPC9205 small form factors show how GaN-based power devices, available now, are driving the next generation of computing."
The EPC9204 and EPC9205 development boards are priced at $131.25 each and are available from distributor Digi-Key Corp. For reference and ease of use, Quick Start Guides (containing set-up procedures, circuit diagrams, performance curves, and bills of material) are provided on EPC's website.
Tags: EPC E-mode GaN FETs GaN-on-Si
Visit: http://www.digikey.com/Suppliers/us/Efficient-Power-Conversion.page?lang=en
Visit: http://epc-co.com/epc/Products/DemoBoards.aspx