12 March 2018
II-VI Inc unveils 940nm edge-emitting DFB laser for 3D sensing
© Semiconductor Today Magazine / Juno PublishiPicture: Disco's DAL7440 KABRA laser saw.
Engineered materials and optoelectronic component maker II-VI Inc of Saxonburg, PA, USA has launched an edge-emitting distributed feedback (DFB) laser diode for 3D sensing applications.
New applications in augmented and mixed reality are driving rapidly growing demand for semiconductor lasers embedded in consumer devices, such as smartphones, headsets and smart glasses, notes II-VI. The new DFB laser diodes operate at 940nm and emit powers of more than 500mW, enabling consumer devices to digitally reconstruct surrounding scenes in 3D using the reflected laser light.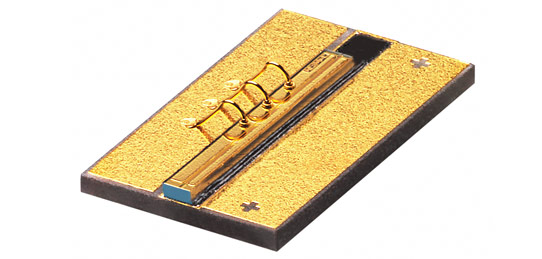 Picture: II-VI's new DFB laser diode.
"This latest product leverages the deep expertise that we accumulated over our 20 year legacy in gallium arsenide lasers," says Karlheinz Gulden, general manager, II-VI Laser Enterprise. "Our customers can rely on our global design and manufacturing teams that recently demonstrated our ability to rapidly scale production of a new laser for consumer electronics to high volumes on a vertically integrated 6-inch GaAs technology platform," he adds.
II-VI says that its DFB laser diodes can be customized to achieve the optimum output power for the application. Engineering sample quantities are currently available for evaluation and design-in, as assemblies on ceramic carriers or in die form.
II-VI's portfolio of products for sensing includes vertical-cavity surface-emitting lasers (VCSELs) for proximity sensing and thumb navigation, and VCSEL arrays for 3D sensing. The portfolio also includes low-angle shift filters that select the reflected laser light over a wide field of view and reject other light to improve camera sensitivity.
In booth #2313 at the Optical Fiber Communication Conference & Exhibition (OFC 2018) in San Diego, CA, USA (13-15 March), II-VI is showcasing new products driven by advances in its materials and technology platforms to enable next-generation optical networks. The product showcase includes a portfolio of products for reconfigurable optical add-drop multiplexer (ROADM) lline cards, highly compact optical amplifier solutions tailored to enable high bit rate DWDM transceivers, micro-optics assemblies for CATV networks, micro-optics and optoelectronics for data-center transceivers, indium phosphide (InP)-based epiwafers, and thermo-electric solutions.
Tags: II-VI Inc
Visit: www.ofcconference.org/
Visit: www.ii-vi-photonics.com