26 March 2018
Micro-LED & mini-LED applications to account for 11.4% of LED wafer volume by 2022
© Semiconductor Today Magazine / Juno PublishiPicture: Disco's DAL7440 KABRA laser saw.
While conventional LEDs are used for backlighting, micro-LED and mini-LED technology has been used for self-emitting in displays of consumer electronics. Since each LED represents a pixel (increasing the number of LED wafers used), wafers for applications using micro-LEDs and mini-LEDs will account for 11.4% of the total LED wafers used worldwide by 2022, forecasts market research firm LEDinside (a division of TrendForce). These applications will become a key driver of market demand, it adds.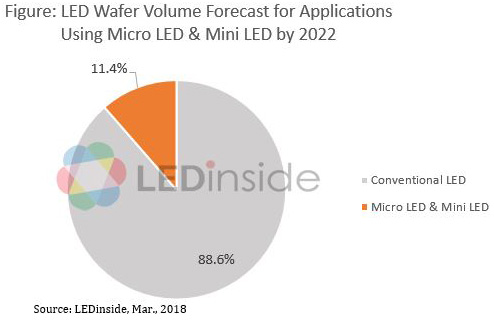 According to research director Roger Chu, the volume of 4-inch equivalent LED wafers was about 37 million in 2017, up 30% year-on-year. Although the rise of organic light-emitting diodes (OLEDs) will affect the number of LEDs used in backlighting of mobile phones and large-size panels, the number of LED wafers used for general lighting and automotive lighting continues to grow. Coupled with the rapid growth of fine-pitch display applications, the number of LED wafers used has increased dramatically.
However, as Chinese LED makers continue to expand their capacities significantly, overall industry capacity may grow much faster than demand in the future. Vendors therefore need to rely on new applications to boost demand, so technical progress in micro-LEDs and mini-LEDs will play a key role, believes LEDinside.
In terms of LED market revenue, LED prices will decline further due to the substantial capacity expansion of Chinese manufacturers, notes the market research firm. However, LED penetration continues to increase, driven by general lighting and automotive lighting applications. Coupled with the new applications of micro-LEDs and mini-LEDs, it is forecasted that LED market revenue will grow at a compound annual growth rate (CAGR) of 7% from $17.16bn in 2017 to $25.5bn in 2022.
Deployment of micro-LED & mini-LED technology worldwide
Micro-LEDs are considered to represent a new-generation display technology due to its properties of high resolution, high brightness, power saving, and rapid response time etc. Companies worldwide have been actively involved in developing micro-LED products, and key players include Apple, Samsung, LG, Sony, Facebook and Google, as well as Chinese companies like San'an Optoelectronics, HC SemiTek, Changelight, Leyard and MTC etc.
Taiwanese companies are also active in micro-LED development. The Industrial Technology Research Institute (ITRI) is establishing a micro-LED demo product line, which is expected to deliver products to virtual reality (VR) product makers from third-quarer 2018. Other major companies such as Epistar, AU Optronics, Innolux, PlayNitride and Macroblock etc have all actively joined in the development of related technologies.
As micro-LED technology still faces technical bottlenecks, transitional mini-LED products are being favored by manufacturers, including chip makers like Epistar, Lextar, San'an Optoelectronics and HC SemiTek, packaging companies like Everlight, Advanced Optoelectronic Technology, Harvatek and Seoul Semiconductor, IC designers like Macroblock, Raydium and Jasper Display, panel makers like AU Optronics and Innolux, and digital display makers like Leyard, notes LEDinside.
Mini-LED revenue to reach $1bn in 2023, driven by digital displays and large-size TV backlighting
Micro-LED-like displays and projection modules to be available in 2018
Tags: LED market
Visit: www.ledinside.com