9 March 2018
MACOM sampling 400Gbps chipset for short-reach optical connectivity
© Semiconductor Today Magazine / Juno PublishiPicture: Disco's DAL7440 KABRA laser saw.
MACOM Technology Solutions Inc is sampling its MALD-38435 four-channel 56Gb/s PAM-4 vertical-cavity surface-emitting laser (VCSEL) driver and companion MATA-38434 four-channel transimpedance amplifier (TIA) devices for short-reach VCSEL-based optical module and active optical cables (AOC) applications.
The new devices complement previously announced transmit and receive clock data recovery (CDR) devices for a complete transmit and receive solution. The chipset operates at up to 56Gb/s PAM-4 (28GBbaud PAM-4) data rate per channel, enabling short-reach (up to 100m) optical modules for 200G QSFP and 400G QSFP-DD and OSFP applications. The new chipset follows the physical media device (PMD) chipset for 100G short-reach SR-4 QSFP modules launched in March 2016.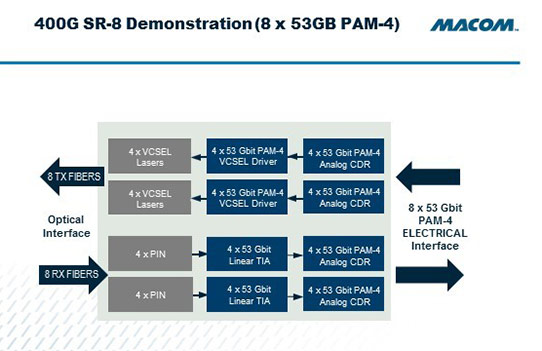 MACOM says that, as demand for 100G connectivity progresses to 200G and on to 400G, optical module suppliers are looking to enable Cloud data centers and high-performance computing (HPC) clusters with optical connectivity solutions delivered in a small form factor and consuming low power at low cost. Featuring the MALD-38435 driver and MATA-38434 TIA along with the existing MASC-38040 and MAOM-38051/38053 CDR devices, the fully analog chipset offers an optimal high-performance, low-power and low-cost combination, it is claimed. By utilizing fully analog circuitry as opposed to digital signal processing, MACOM's solution delivers what is claimed to be best-in-class low latency (especially critical for high-performance computing).
The MALD-38435 VCSEL driver and MATA-38434 TIA are offered as a die-level solution with 250μm channel spacing, optimal for direct wire-bonding to VCSEL lasers and photodetectors. The devices feature individual channel programmability control via an I2C interface for flexible management by the module's local microcontroller. The devices feature low power and a small die size, enabling implementations in QSFP and QSFP-DD modules. The devices' low jitter performance enables low bit error rate (BER) of 1E-15 with a forward-error corrected (FEC) protected link. When combined with MACOM's CDRs, the solution delivers extensive per-channel equalization and eye-shaping programmable features as well as a pseudo-random bit sequence (PRBS) generator and checker and eye monitor features.
"By utilizing our analog circuit technology, we are delivering a complete chipset for high-performance, short-reach optical interconnect at low power, low cost and low latency critical for cloud computing and HPC applications," says Marek Tlalka, senior director of marketing, High-Performance Analog, at MACOM.
In booth #2613 at the Optical Networking and Communication Conference & Exhibition (OFC 2018) in San Diego (13-15 March), as well as showcasing a complete portfolio of PMDs for optical modules, MACOM is demonstrating the new chipset with a QSFP-DD module from Dust Photonics. "We are pleased to demonstrate the industry's leading 400G QSFP-DD-SR8 short-reach module utilizing MACOM's chipset," says Dust Photonics' CEO Ben Rubovitch. "MACOM's fully interoperable solution and great technical support reduced our time to market," he comments. "We look forward to expanding our portfolio to additional optical modules and AOC applications."
MACOM announces volume shipments of PMD chip-set for 100G SR-4 QSFP modules
Visit: www.ofcconference.org/
Visit: www.macom.com