28 May 2018
3-5 Power Electronics begins production of GaAs power semiconductors
© Semiconductor Today Magazine / Juno PublishiPicture: Disco's DAL7440 KABRA laser saw.
3-5 Power Electronics GmbH (35PE) of Dresden, Germany – which was founded in 2015 and specializes in developing and producing gallium arsenide (GaAs) power semiconductors – is entering the market with a new technology for high-voltage and high-current power electronics applications. This follows the firm's first production plant going into operation in the Dresden Technology Center on 11 April.
"Silicon-based elements are used for many applications today. However, these elements do not achieve the level of performance that will be required in the future for goals such as the implementation of Industry 4.0-capable technologies or the breakthrough of electric mobility," say joint managing directors Dr Gerhard Bolenz and Dr Volker Dudek, who co-founded 35PE with Richard J. Kulle. "The gallium arsenide structures that we produce offer the required power density, efficiency and reliability within an incredibly compact system," they add.
In its production plant, 35PE processes GaAs wafers under high vacuum to produce GaAs power semiconductors. So far, 12 patents have been applied for and registered in Europe, China, Japan and the USA for process technology, material designs and component designs. Further applications are currently being processed.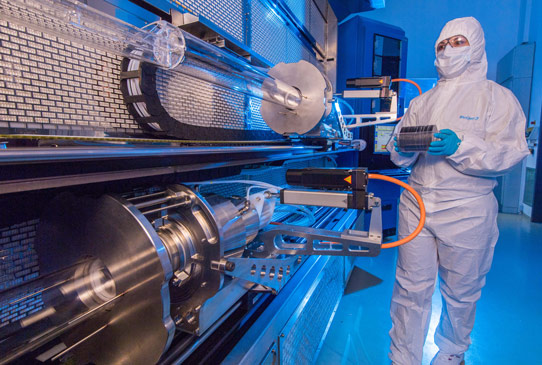 Picture: High-vacuum processing of GaAs wafers in 35PE's new GaAs power semiconductor production plant in Dresden. Photo: 35PE/Kristin Schmidt.
The firm employs a fab-lite business model, in which 35PE performs core processes in-house and outsources standard services to contract manufacturers. The resulting GaAs diodes are said to meet the requirements placed on power electronics in areas such as modern industrial applications, renewable energy generation and fully electric or hybrid electric vehicles (EVs/HEVs). In the medium- and high-voltage range (600V and 1700V), they supplement silicon-based and silicon carbide (SiC)-based power electronics and are said to offer improved energy efficiency while also reducing the weight, size and overall cost of the respective complete system.
Through its products and expertise, 35PE reckons that it can participate in the high growth forecasted for the power electronics market, particularly in the Far East. In addition to the firm's own sales activities in Europe and the Americas, an international network including strategic partners in China and Japan is targeted at enabling rapid entry to the Asian market.
Additional partnerships are currently being developed regarding location. "When we were looking for a location, our first choice was Silicon Saxony, with Dresden as the hub," say Bolenz and Dudek. "This location offers a great opportunity to establish a competence center for gallium arsenide power semiconductors together with other specialists in the semiconductor industry and in the field of semiconductor research, and in doing so, to achieve a global presence," they believe, citing a major objective behind their decision to choose Saxony as a location.
35PE currently has six employees and hopes to grow this to more than 20 within about three years.
Tags: GaAs Power electronics
Visit: www.3-5pe.com