2 May 2018
Alta Devices launches Gen4 solar cell, targeting UAVs and autonomous vehicles
© Semiconductor Today Magazine / Juno PublishiPicture: Disco's DAL7440 KABRA laser saw.
Alta Devices of Sunnyvale, CA, USA has launched its Gen4 fourth-generation solar cell technology, which weighs significantly less than the Gen3 previous-generation technology and results in an improved power-to-weight ratio of 160%. Able generate substantial power over small surfaces with minimal impact to vehicle design criteria, the single-junction gallium arsenide (GaAs) technology in the lightweight, flexible solar cells is said to be critical for unmanned aerial vehicles (UAVs), solar cars and other electric vehicles.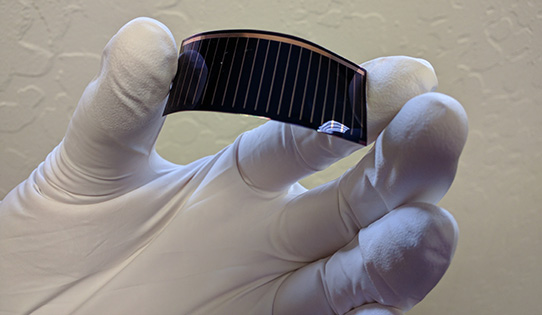 Picture: Alta Devices' Gen4 solar cell.
"Autonomy in the air and on the ground is becoming a reality," says CEO Jian Ding. "While there has been much discussion, thought and progress on the 'eyes, ears, and brains' for these vehicles, there has been little focus on autonomous power. Autonomy diminishes in value when range is compromised," he adds. "Because Alta's new generation solar cells have such a high power-to-weight ratio, we are moving closer to realizing a vision of vehicles that never have to stop to refuel."
Autonomous power is critical because each sensor, processor or communication device added to increase system capabilities simultaneously increases power demand. For example, to be of practical use for applications like remote internet connectivity, a high-altitude, long-endurance unmanned aerial vehicle (HALE UAV) needs to add sensor-based avionics and navigation, in addition to reserving power and weight budget for communications payloads. Adding additional batteries or energy sources adds weight and bulk and, due to aircraft weight limitations, they are still limited to only a few days of energy supply. Alta's solar technology integrates into the surface of the aircraft or vehicle without upsetting aerodynamics.
For example, if Alta's Gen4 technology had been available and used on the large solar-powered aircraft Solar Impulse 2 instead of crystalline silicon, the result in weight savings would have been up to 100kg. In addition, the technology would have provided up to 15% more solar power. Benefits for operations would include a larger service ceiling, faster rate of climb and the ability to operate at higher latitudes in winter while carrying more sophisticated and capable payloads.
At the solar cell level, Alta's new Gen4 technology provides a weight reduction of 40% or a power-to-weight improvement of 160% over the earlier Gen3 version. Gen4 solar cells can be used to power UAVs, automobiles, sensors, etc.
Alta has now transitioned its production to Gen4, utilizing cells that are much thinner than the previous generation while continuing to improve electrical performance. This translates to going from a ratio of 240g/m2 to 170g/m2 at the matrix level, including cell-to-cell interconnects, ribbons and protective diodes. The reduced cell thickness also results in a smoother, conformal and more aerodynamic surface when integrated into solar vehicles and UAV platforms.
Alta Devices has a history of breaking efficiency records for both single-junction solar cells and solar modules. The firm has broken the single-junction solar cell efficiency record more than four times since 2010 and has held the record since 2012 at 28.8%.
Tags: Alta Devices GaAs PV Hanergy
Visit: www.altadevices.com