17 May 2018
CST Global's technology day helps to launch T@CST photonics collective
© Semiconductor Today Magazine / Juno PublishiPicture: Disco's DAL7440 KABRA laser saw.
III-V optoelectronic foundry Compound Semiconductor Technologies Global Ltd (CST Global) of Hamilton International Technology Park, Blantyre, near Glasgow, Scotland, UK says that its recent technology day allowed it to celebrate the expansion of its III-V compound semiconductor manufacturing site in the presence of local photonics businesses, Members of Parliament (MPs) and Members of the Scottish Parliament (MSPs), innovation and funding bodies, university professors, and press and media (including the BBC).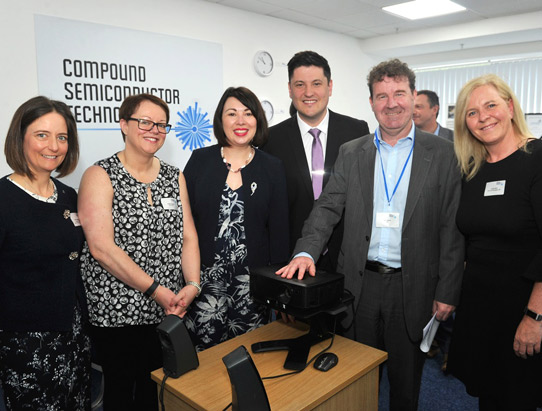 Picture: From left: Carol Monaghan MP, Sharon Doonin PA to CEO, Monica Lennon MSP, Ged Killen MP, CEO Neil Martin, and Cylina Porch PA to Carol Monaghan.
In his speech 'The Photonics Gold Rush of 2019', CEO Neil Martin covered the size and growth of the photonics market; the significance of enabling technology to dependent industries and its impact on society; the challenges faced in recruiting international talent; and the importance of funding to accelerate entry into new technology sectors and markets. He reckons that the photonics industry will be critical to the UK economy and GDP over the next ten years, stressing the urgency to prove feasibility and own new technology.
Martin went on to launch 'Technology at CST' (T@CST). "We plan to facilitate a collective voice for photonics companies in Scotland through the T@CST think-tank. Industrialists, professors, engineers, funders and the government will all be invited to help to identify the steps necessary to commercialize new photonics technologies being developed," he explains. "The first meeting of T@CST will look at the key steps necessary to take Quantum Technologies out of the lab and into everyday life." The host will be Sir Peter Knight, professor of Quantum Optics at Imperial College, London.
The keynote address at CST Global's technology day was provided by Carol Monaghan MP, chair of the All Party Parliamentary Group for Photonics and a Member of the House of Commons Science and Technology Select Committee. Monaghan graduated from Strathclyde University with a degree in laser physics and optoelectronics and is MP for Glasgow North West. "I set up the All Party Parliamentary Group on Photonics to increase understanding of this key, but often unknown, industry," says Monaghan. "The central belt of Scotland is a hotbed for photonics research, from Glasgow and Strathclyde universities in the west to Heriot-Watt, Edinburgh and St Andrews in the east," she adds. "These industry-facing universities allow great and rich partnerships between industry and research that allow SMEs to flourish. In Scotland, the presence of a number of major multi-nationals, combined with this outstanding research base, has enabled the central belt to become a world leader in the design, development and manufacture of high-value lasers."
"Across Scotland, photonics currently provides employment for around 3000 people. Laser sales are in excess of £200m per annum, and 90% of those sales are exports. It enables other industries to be competitive and 10% of UK jobs depend on it," Monaghan continues. "The shortages in science, technology, engineering and maths skills may pose a threat to the photonics industry. Thus, one of the biggest concerns for the photonics industry is Brexit. Access to the single market and to skilled and experienced staff are vital to our photonics companies. Continued collaboration with our European research partners, and continued access to the brightest and the best, must be a priority in all Brexit negotiations. Our EU national colleagues and partners still need certainty over their current and future status… nearly two years after the vote to leave the European Union, we still do not have clarity on this," she adds.
"But we also have a challenge to grow our own talent. Scotland's school curriculum has undergone major changes. Skills in communication, investigation, evaluation and analysis are now given far greater importance and our schools are training our young people to be the confident individuals that industry requires," Monaghan concluded.
Tags: CSTG
Visit: www.CSTGlobal.uk