2 May 2018
EVG begins construction of Manufacturing III building to expand production capacity
© Semiconductor Today Magazine / Juno PublishiPicture: Disco's DAL7440 KABRA laser saw.
EV Group of St Florian, Austria – a supplier of wafer bonding and lithography equipment for semiconductor, micro-electro-mechanical systems (MEMS) and nanotechnology applications – has started construction on the next phase of expanding its corporate headquarters. The new building will house its 'Manufacturing III' facility, which will provide about 4800m2 of additional space for manufacturing and other departments, more than doubling floor space for final assembly of EVG's systems.
This follows the opening last December of a new building that allows a significant expansion of warehouse space and provides more than 50% additional test room space for final system assembly as well as technical source inspection of the systems by the firm's customers.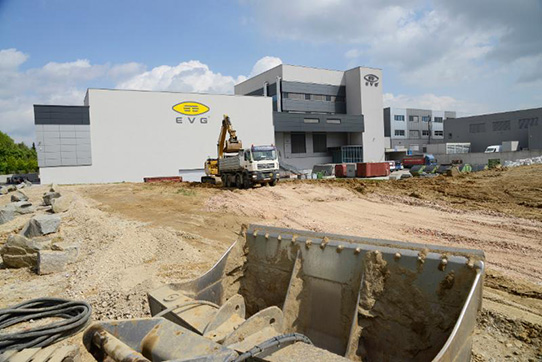 Picture: The new Manufacturing III facility at EVG's headquarters campus.
"With our innovative manufacturing solutions for the high-tech industry as well as new biomedical applications, we operate in very dynamic markets with great future prospects," says executive operations and financial director Dr Werner Thallner. "In light of the high capacity utilization in all areas of our existing facilities, as well as the positive market outlook, we decided to implement our plans for building our Manufacturing III facility this year," he adds. "This will support our long-term growth targets at our corporate headquarters in St. Florian am Inn."
Construction of the new Manufacturing III building is set to be completed in early 2019.
EVG completes latest phase of production capacity expansion
EVG expanding production & test capacity at corporate HQ
Tags: EV Group
Visit: www.EVGroup.com