22 May 2018
Hella and Audi introduce car featuring dynamic HD matrix LED headlamps with laser high beams
© Semiconductor Today Magazine / Juno PublishiPicture: Disco's DAL7440 KABRA laser saw.
Car maker Audi and Germany-based automotive lighting and electronics firm Hella are introducing several vehicle front-lighting innovations to the market, allowing the illumination of roads even more dynamically and precisely while providing drivers with better vision. With the new Audi A8, an efficient LED lens module in the area of low beams will enter serial production for the first time. The new HD Matrix LED headlamp technology has additionally been further developed and a dynamic laser high-beam realized.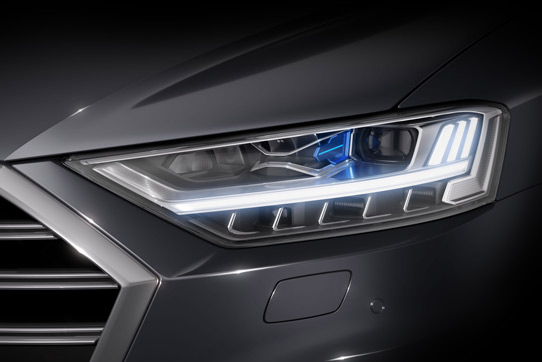 The low beam of the new Audi A8 headlamp is equipped with a compact, efficient LED lens module consisting of glass and combining primary and secondary optics in a single body (avoiding most scatter loss). For the low beam, a total of three modules are used — one for reach, the other two for lighting in front of the vehicle. The latter have an efficiency of up to 70% (the relationship between the available LED luminous flux and the luminous flux used for low-beam distribution).
For the high beam, lighting engineers have developed the Matrix headlamp technology further by increasing the number and performance of individually controllable LEDs and rearranging them. 32 LEDs are now situated in a joint module along two rows. LED control occurs on the basis of front-camera data. As soon as it recognizes other vehicles or road users, the control unit turns off or dims individual LEDs to avoid glaring. All other parts will simultaneously be operating at high-beam capacity, improving road visibility. The HD Matrix LED high beam is supported by two more LED modules throughout, which also increase both spread width and intensity.
Due to the HD Matrix LED headlamp and the additional LED modules, roads — and especially curves — can be illuminated even more actively and precisely. In the low beam, the optical concept of the lens module ensures that each LED can be attributed to a specific area of the road. When driving in curves, the respective light focus will shift. When driving with high beams, the high beam LEDs of the HD Matrix LED headlamps will shift the light towards the progression of the curve.
The dynamic laser high beams automatically turn on at 70km/h. The laser module will project a light beam whose spot extends several hundred meters. Furthermore, the light adjusts to the progression of the curve, e.g. on country roads. Also, once the camera recognizes other vehicles in its range, the laser spot automatically dims. The technology provides drivers with the best vision of the road without glaring oncoming traffic. In the new Audi A8, the laser light version for the first time integrates a light animation for 'coming home'/'leaving home' functions, realized via 36 additional white LEDs.
Tags: LED headlamps
Visit: www.hella.com