18 May 2018
Navitas CTO Kinzer inducted into inaugural Power Electronics Hall of Fame
© Semiconductor Today Magazine / Juno PublishiPicture: Disco's DAL7440 KABRA laser saw.
At the 30th IEEE International Symposium on Power Semiconductor Devices and ICs (ISPSD 2018) in Chicago (13-17 May), Dan Kinzer - co-founder & chief technology officer/chief operating officer of Navitas Semiconductor Inc of El Segundo, CA, USA - has been inducted into the ISPSD inaugural Hall of Fame.
"It has been an opportunity to look back at the first revolution in power electronics 30 years ago with the mass adoption of power MOSFETs & switching regulators…and appreciate that we are at the start of the next revolution with the world's first GaNFast power ICs and resonant topologies which will enable a new class of ultra-high-frequency, high-efficiency and high-density converters," says Kinzer.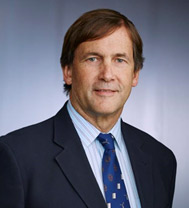 Picture: Navitas' co-founder & chief technology officer/chief operating officer Dan Kinzer.
Navitas introduced what it claimed to be the first commercial GaN power ICs. The firm says that its proprietary 'AllGaN' process design kit (PDK) monolithically integrates GaN power field-effect transistors (FETs) with logic and analog circuits, enabling smaller, higher-energy-efficiency and lower-cost power for mobile, consumer, enterprise and new energy markets.
Kinzer has been inducted into the founding class of 2018 for his "contributions to power MOSFET technology and his leadership role in organizing ISPSD conferences," says Dr John Shen, ISPSD conference chair and Grainger Professor of Electrical and Computer Engineering at Illinois Institute of Technology. "He has been one of the founders of the conference and has made tremendous contributions to the field."
Since graduating from Princeton University in 1978, Kinzer's career has been highlighted by industry-first milestones and over 100 patents. For 25 years, he has led R&D at the VP level or higher at International Rectifier (Infineon), Fairchild (On Semiconductor) and then co-founded Navitas in 2014. Starting with silicon technology spanning 20V to 2000V and covering MOSFET transistors, high-voltage power ICs and insulated-gate bipolar transistors (IGBTs), Kinzer advanced new wide-bandgap silicon carbide (SiC) and gallium nitride (GaN) device design and fabrication processes to achieve proven, mass-production status and drive a next generation of energy-saving power converters.
Tags: GaN Power electronics
Visit: www.ispsd2018.com
Visit: www.navitassemi.com