10 May 2018
Samsung offers LED products optimized for horticulture lighting
© Semiconductor Today Magazine / Juno PublishiPicture: Disco's DAL7440 KABRA laser saw.
South Korea's Samsung Electronics Co Ltd is now offering LED components that optimized for horticulture lighting. The new horticulture LED lineup features a newly developed 'red LED' package, as well as additions to key existing Samsung 'white LED' package and module families to include horticulture lighting specifications.
"Our horticulture LED solutions are based on LED technologies that deliver proven levels of performance and reliability across an extensive range of lighting applications," says Yoonjoon Choi, VP of the LED business team. "By broadening our lineup to include horticulture LEDs, we are providing global luminaire manufacturers with a one-stop resource for these solutions as well as for our many other LED technologies."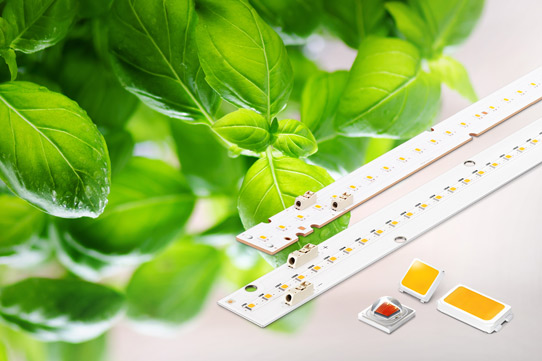 Picture: Samsung's horticulture LEDs. Top row (from left to right): Q-series, H influx. Bottom row (from left to right): LH351B Red, LM301B, LM561C.
The new LH351B Red horticultural LED is a high-power package providing a wavelength of 660nm with a photosynthetic photon flux (PPF) value of 2.15 micromoles per second (μmol/s) (350mA), making it optimal for most types of horticulture lighting. The 660nm wavelength helps to accelerate the growth of plants including their photosynthesis, as well as enrich the blooming of flowers. The package also features a very low thermal resistance of 2.0 kelvins per watt (K/W), allowing for easier heat dissipation within LED luminaires. Moreover, the LH351B Red uses the same electrode pad design as its LH351 series counterparts, enabling greater PCB design flexibility in luminaire manufacturing.
Beyond its new LH351B Red offering, Samsung has added horticulture specifications to its mid-power packages (LM301B and LM561C) and two linear modules – (the Q-series and H inFlux). These LED component families now include PPF values of 0.52μmol/s (65mA), 0.49μmol/s (65mA), 24μmol/s (0.45A, 21.9V) and 114μmol/s (1.38A, 46.9V), respectively.
In addition, the white LED packages and modules feature extremely high light efficacy of 2.92 micromoles per joule (μmol/J) (65mA), 2.72μmol/J (65mA), 2.43μmol/J (0.45A, 21.9V) and 1.76μmol/J (1.38A, 46.9V), respectively, while the LH351B Red delivers 3.13μmol/J (350mA). These high efficacy levels minimize the impact of lighting on ambient temperatures, allowing growers to better control temperatures in almost any greenhouse environment and save on energy costs.
Showcased in booth #1112 at the LIGHTFAIR International 2018 trade fair in Chicago, IL, USA (8-10 May), samples of Samsung's horticulture LEDs are available now.
Visit: www.samsung.com