29 May 2018
ALD pioneer Suntola awarded Finland's 2018 Millennium Technology Prize
© Semiconductor Today Magazine / Juno PublishiPicture: Disco's DAL7440 KABRA laser saw.
On 22 May in Helsinki, Finland's president Sauli Niinistö presented Technology Academy Finland's eighth biennial Millennium Technology Prize (worth €1m) for 2018 to Finnish physicist Dr Tuomo Suntola.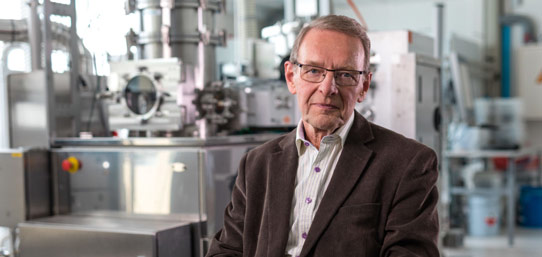 Suntola pioneered atomic layer deposition (ALD) technology, which allows the fabrication of complex structures one atomic layer at a time, even on three-dimensional surfaces. ALD is used worldwide to manufacture ultra-thin material layers for microprocessors and digital memory devices.
Suntola's innovation is cited as being one of the key factors in sustaining Moore's Law (i.e. that the number of transistors per integrated circuit doubles roughly every two years) and that "the extremely thin isolating or conducting films needed in microprocessors and computer memory devices can only be manufactured using the ALD technology developed by Suntola".
Suntola previously (in 2004) received the European SEMI Award, honoring "the pioneer in Atomic Layer Deposition techniques … that paved the way for the development of nanoscale semiconductor devices".
Suntola developed ALD technology and equipment for manufacturing thin films in the 1970s and then acquired corresponding international patents, enabling the industrial production of thin films on a mass scale. Fundamental research that underlies ALD technology had also been conducted in the former Soviet Union by professors Valentin B. Aleskovsky (1912–2006) and Stanislav I. Koltsov (1931–2003).
"Suntola's innovations led to the large-scale commercial utilization of the ALD method," notes Päivi Törmä, chair of the board of the Millennium Technology Prize Selection Committee. "He saw the huge potential of atomic layer deposition and thin-film technology in microelectronics and information technology," he adds.
"When the semiconductor sector came to understand the significance of ALD technology in the early 2000s, its use exploded," says Suntola. "The super-efficient everyday electronics of today are based on ALD," comments Kustaa Poutiainen, chairman & CEO of ALD thin-film technology firm Picosun of Espoo, Finland. Suntola joined Picosun a couple of years after the firm was founded in 1997, first as a technology advisor but then also as one of the owners and a board member.
"Being awarded the Millennium Technology Prize is a great honour for me, especially because the innovation has proved useful in so many applications," says Suntola.
ALD can be used to improve the efficiency of solar panels, LED lights and lithium batteries for electric cars and its use has also been researched for environmentally friendly packaging materials. The global market for equipment and chemicals used in manufacturing ALD films is estimated to be about $2bn, and the market value of consumer electronics relying on ALD technology is at least $500bn, it is reckoned.
ALD films are used in optical applications, as well as on watches and silver jewellery to prevent corrosion. "The health technology is taking giant leaps forward with ALD, and we will see the same happening to many other branches of industry in the near future," comments Poutiainen.
Tags: ALD
Visit: https://taf.fi/millennium-technology-prize
Visit: www.picosun.com