23 May 2018
Veeco's revenue grows 14% in Q1 to $158.6m, driven by MOCVD system shipments to China
© Semiconductor Today Magazine / Juno PublishiPicture: Disco's DAL7440 KABRA laser saw.
For first-quarter 2018, epitaxial deposition and process equipment maker Veeco Instruments Inc of Plainview, NY, USA has reported a seventh consecutive quarter of revenue growth, to $158.6m (well above the midpoint of the $140-165m guidance). This is up 14% on $139.7m last quarter (adjusted from $143.4m after adopting the ASC 606 revenue recognition standard on 1 January) and up 68% on $94.5m a year ago.
"2018 is off to a great start with strong sequential and year-over-year revenue growth," says chairman & CEO John R. Peeler. "Sales growth in the first quarter was driven primarily by shipments of our lithography systems into the advanced packaging market, and shipments of MOCVD systems for LED applications."
Of total revenue, the LED Lighting, Display and Compound Semiconductor segment hence comprised 57%, growing to $90m, reflecting strong 2018 opening metal-organic chemical vapor deposition (MOCVD) backlog (delivering systems to five customers in China).
The Advanced Packaging, MEMS & RF Filter segment jumped from 9% of revenue last quarter to 17% (more than doubling to $27m), as Veeco saw MEMS device makers add to their etch production capacity and tier-1 OSAT (outsourced assembly & test) customers add capacity for fan-out wafer-level packaging and copper pillar applications (shipping multiple lithography tools).
The Front-End Semiconductor segment (formerly part of the Scientific & Industrial segment, before the acquisition in May 2017 of lithography, laser-processing and inspection system maker Ultratech Inc of San Jose, CA, USA) fell to $9m, comprising 6% of revenue (down from 9%). However, this includes revenue from STT-MRAM and 3D wafer inspection systems (two areas of growth for Veeco).
The Scientific & Industrial segment was flat at $32m (mainly sales for data storage as well as optical coatings), falling from 24% of revenue last quarter to 20%.
Geographically, of total revenue, China rebounded further, from just 18% last quarter to 47% (including 39% from MOCVD sales for blue LEDs), while the USA remained at 15%, Europe, Middle East & Africa (EMEA) fell from 14% to 10%, and the rest of the world (including Photonics, RF Device and Advanced Packaging revenue in Taiwan, Korea and Japan) fell from 53% to 28%.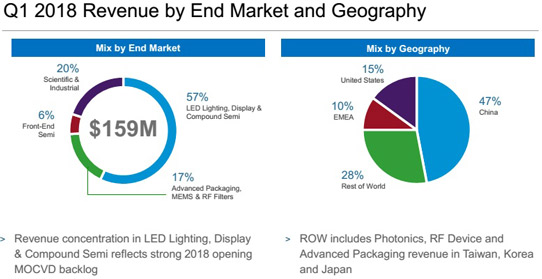 "Our non-GAAP gross margin, operating income, net income and EPS all exceeded our guided ranges," Peeler notes.
Gross margin was 36.5%, down from 37.3% a year ago, but higher than the 34-36% guidance due to higher sales volume, better product mix and favorable service costs.
Operating expenditure (OpEx) was $46.5m, cut from $49m last quarter. Operating income has risen further, from $4.8m a year ago and $7.5m last quarter to $11.3m. Likewise, net income has risen further, from $4.2m ($0.10 per diluted share) a year ago and $6.2m ($0.13 per diluted share) last quarter to $9.2m ($0.20 per diluted share, above the forecast ranging from a loss of $0.04 to a profit of $0.14).
However, due to investments in working capital, cash and short-term investments fell by $16.9m during the quarter, from $327.5m to $310.6m. Long-term debt was $278m, representing the carrying value of the $345m in convertible notes.
Order bookings were $155m, down 13% on $179m last quarter but up 45% on $107m a year ago. "As we work towards our goal of being a more diversified company, we are pleased to see orders grow in the Front-End Semi and Advanced Packaging, MEMS & RF Filter markets," says Peeler.
Of total bookings, Advanced Packaging, MEMS & RF comprised 19%, including multiple lithography and wet etch systems for fan-out wafer-level packaging, as well as multiple systems for MEMS. LED Lighting, Display & Compound Semiconductors comprised 34%, including multiple EPIK 868 MOCVD systems from a large LED lighting customer in China). "Separately, consistent with our expectations for growth in Compound Semi outside of general lighting, we received orders for GaN power as well as photonics application," notes chief financial officer Sam Maheshwari. Front-End Semiconductor was up sharply to 21% (as customer interest in the superfast 3D inspection system accelerates). Scientific & Industrial comprised 26% of orders. "This profile is consistent with our expectations of a more diversified company from second half of 2018 onwards," says Peeler.
Order backlog at the end of Q1 was $331m, down only slightly on last quarter's record $334m and well above $221m a year previously.
For second-quarter 2018, Veeco expects revenue of $145-170m (contributing to revenue for first-half 2018 up 15% year-on-year). Gross margin is expected to fall to 33-35% (although gross margin for first-half 2018 should still be higher than forecasted, above 35%). With OpEx of $46-48m, operating income should be $2-11m and net income $1-10m ($0.01-0.20 per diluted share).
"We are on track for strong growth in 2018 sales over 2017, with year-over-year growth expected in all four of our market segment," says Maheshwari. "Blue LED MOCVD system sales in China generated low margins for us, and we expect these revenues to reduce in the second half of the year," he adds. "On the other hand, sales from the rest of our businesses are expected to grow in the second half, substantiated by our Q1 booking. This shift in revenue mix should help improve gross margin for the company." 
"With our current visibility, we see Q3 revenue tracking flat to Q2 revenue, but with higher gross margin," says Maheshwari. "Additionally, we continue to target gross margin of 40% as we exit the year [due to higher margin in second-half 2018]."
Veeco's revenue rises 9% in Q4/2017, driven by rebound in GaN MOCVD sales to China
Veeco authorizes $100m share repurchase program
Veeco's Q3 revenue growth driven by continued recovery in MOCVD market
Veeco's Q2 revenue up 21% year-on-year organically
Veeco completes acquisition of Ultratech for $862m
Veeco's Q1 revenue up 21% year-on-year to $94.4m, driven by LED demand
Visit: www.veeco.com