7 November 2018
Aixtron's revenue grows 15% in Q3, driven by power electronics, laser and ROY LED applications
© Semiconductor Today Magazine / Juno PublishiPicture: Disco's DAL7440 KABRA laser saw.
For third-quarter 2017, deposition equipment maker Aixtron SE of Herzogenrath, near Aachen, Germany has reported revenue of €63.4m, up 15% on €55.2m last quarter and up 2% on €62.2m a year ago.
Revenue for the first 9 months of 2018 was €180.9m, up 3% year-on-year from €176.3m. Adjusted for €37.6m revenue from the atomic layer deposition/chemical vapor deposition (ALD/CVD) memory product line that was sold to Eugene Technology Inc in Q4/2017, on a like-for-like basis this was 30% above the prior year's €138.7m.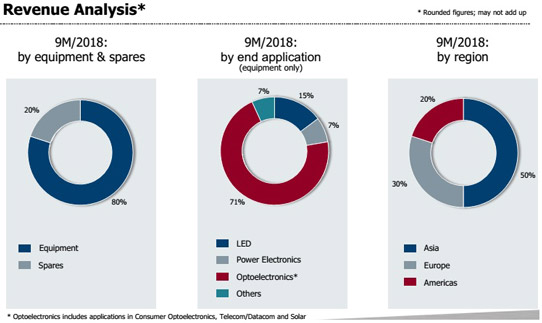 Gross margin has improved further, from 35% a year ago and 43% last quarter to 44%, due to the higher sales volume, a favorable product and regional mix and the strengthening US$/€ exchange rate. Gross margin for the first 9 months improved to 43%, up from 30% the prior year (when inventories were being cleared and the product mix was not so good).
Operating expenses were €57.6m in the first nine months of 2018, down 21% on the prior year's €72.5m, although the latter included restructuring expenses of €13.6m from freezing development of product lines for III-V-on-silicon (TFOS) for microprocessor logic. Quarterly operating expenses were cut slightly to €18.9m in Q3, from €19.7m in Q2.
Driven by the good control of operating expenses, the operating result (EBIT) for the first 9 months of 2018 improved to €20.7m, compared with -€19.5m the prior year. This included quarterly EBIT more than doubling from €4.1m in Q2 to €8.7m in Q3 (margin of 14% of revenue).
Likewise, compared with a net loss of -€20.6m the prior year, the first nine months of 2018 saw net income of €27.7m (higher than EBIT because of the recognition of €4m of deferred taxes in Q3). This was aided by quarterly net income more than tripling from €3.7m in Q2 to €11.7m in Q3 (margin of 18% of revenue).
Operating cash flow has risen from €12.5m in Q2 to €13.9m in Q3, offsetting Q1's outflow of -€21.1m resulting mainly from planned payments related to selling the ALD/CVD product line in Q4/2017. For the first nine months of 2018, operating cash flow was hence €5.4m (down from €56.5m the prior year). After capital expenditure (CapEx) of €2.7m in Q3/2018, total cash flow was therefore €10.7m. Cash and cash equivalents hence rose from €234.7m to €245.4m during the quarter (almost reaching the €246m at the end of 2017). The main changes are an increase in pay inventories and the associated customer deposits (reflecting a strong order backlog for delivery over the next few months) and a reduction in receivables to 45 days outstanding.
Also, with the signing in late October of a joint venture agreement with South Korean organic light-emitting diode (OLED) supplier IRUJA Co Ltd (involving IRUJA contributing its automation & handling technology for display applications plus some cash, as well as acquiring up to 20% of Aixtron's OVPD-based OLED subsidiary APEVA over the next few years), Aixtron has completed the strategic adaptation of its structure that was initiated in 2017, which has led to sustainable profitability, says president Dr Bernd Schulte.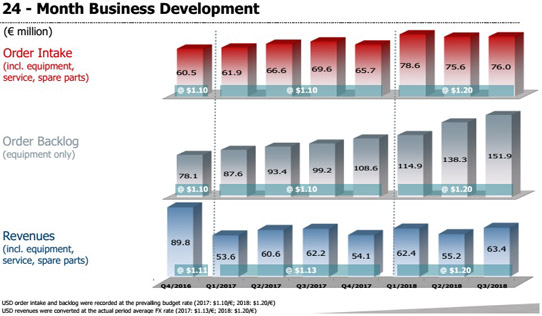 Order intake (including spare parts and services) in Q3/2018 was €76m, up slightly from last quarter's €75.6m and up 10% on €69m a year ago. Order intake for the first nine months of 2018 was €230.3m, up 16% on €197.9m the prior year.
As in previous quarters, both revenue and order intake in the first nine months of 2018 were driven primarily by continued demand for continued demand for metal-organic chemical vapor deposition (MOCVD) systems for the production of red, orange and yellow (ROY) LEDs (e.g. for displays) and lasers such as vertical-cavity surface-emitting lasers (VCSELs) and edge-emitting lasers (EELs) for applications in 3D sensing and optical data transmission. In Q3/2018 there was also increasing demand for MOCVD systems for power electronics applications – "For the first time, we have more orders on production capacity extensions rather than just for development and for product qualification," notes president Dr Felix Grawert.
"We were very pleased with the broad distribution of our order intake into applications for red, orange and yellow LEDs, lasers and power electronics," comments Schulte.
"In this fiscal year, we are benefiting from the increasing market penetration of new display and communication technologies worldwide," says Grawert. "Our MOCVD systems for ROY LEDs and laser applications such as VCSEL or EEL, which are particularly in demand in the field of 3D sensor technology or optical data transmission, have established themselves as technically leading systems. The growing orders from power electronics are due to the increasing use of components based on gallium nitride (GaN) or silicon carbide (SiC) for energy-efficient communication, automotive energy management, consumer electronics and mobile devices," he adds.
Equipment order backlog has hence risen to €151.9m, up 10% on €138.3m at the end of June and up 53% on €99.2m a year previously, and the highest backlog since 2011. "This gives us good visibility for the remainder of the year and into 2019," comments VP of finance & administration Charles Russell.
Full-year 2018 guidance (given in February) was originally for revenue and orders of €230-260m, gross margin of 35-40%, OpEx of €75m, EBIT margin of 5-10% of revenue, and positive operating cash flow. After first-half 2018, this was revised to revenue of €260m, gross margin of 40% and EBIT margin of 10% (corresponding to EBIT of €26m), i.e. the upper end of the prior guidance ranges. Guidance for orders was raised to €260-290m.
Now, based on the results for the first nine months of 2018 and internal assessment of the development of demand, Aixtron has further updated its full-year 2018 guidance. The firm still expects revenue of €260m and gross margin of 40%, but it now expects EBIT of €35-40m, orders of €290m (at the upper end of the revised range) and positive total cash flow (not just positive operating cash flow).
Aixtron's orders rise 20% year-on-year in first-half 2018, driven by MOCVD systems for lasers and red-orange-yellow LEDs
Aixtron's orders grow 20% in Q1, driven by MOCVD systems for lasers in 3D sensing and datacoms
Aixtron returned to annual profit in 2017 after sale of ALD/CVD product line
Aixtron enters net profit in Q3, aided by increased MOCVD demand for laser applications
Visit: www.aixtron.com