14 November 2018
EVG and Plessey partner on GaN-on-Si monolithic micro-LED technology for AR applications
© Semiconductor Today Magazine / Juno PublishiPicture: Disco's DAL7440 KABRA laser saw.
Plessey of Plymouth, UK is collaborating with EV Group of St Florian, Austria – a supplier of wafer bonding and lithography equipment for semiconductor, micro-electro-mechanical systems (MEMS) and nanotechnology applications – to bring gallium nitride on silicon (GaN-on-Si) monolithic micro-LED technology to the mass market. Micro-LEDs comprise the key optical technology for next-generation augmented reality (AR) applications.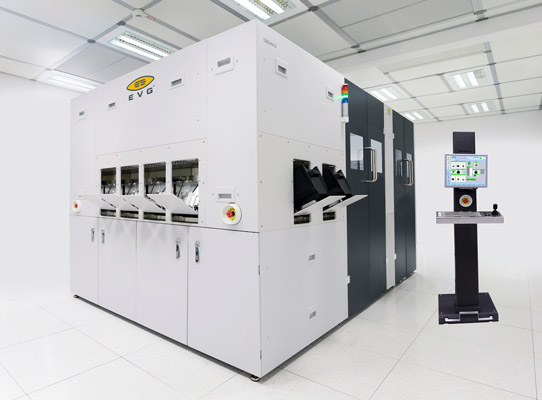 Picture: EVG's GEMINI automated production wafer bonding system for 200mm wafers.
Plessey has purchased a GEMINI production wafer bonding system from EVG, enabling it to bond its GaN-on-Si micro-LED arrays to the panel's backplane at the wafer level with the high level of alignment precision necessary to enable very small pixel dimensions.
EVG's patented SmartViewNT Automated Bond Alignment System technology is suitable for Plessey's requirements because it allows face-to-face alignment of the wafers with very high precision. A maximum level of automation and process integration is achieved via the GEMINI automated production wafer bonding system. Wafer-to-wafer alignment and wafer bonding processes up to 300mm for volume manufacturing are all performed in one fully automated platform.
"The modular design of the GEMINI system is ideal for our requirements," comments Plessey's VP of engineering John Whiteman. "Having the pre-treatment, clean, alignment and bonding enabled within one system means higher yield and throughput in production," he adds. "The excellent service provided by EVG has been critical to bringing the system online quickly and efficiently."
Plessey orders Aixtron AIX G5+ C MOCVD system for GaN-on-Si monolithic micro-LEDs
Plessey and JDC collaborate on tailored backplane for monolithic micro-LED displays
Plessey demos microLED-based AR and VR HUD concept at CES
Plessey aims to launch first monolithic microLED displays in first-half 2018
Tags: EV Group Plessey GaN-on-Si microLED
Visit: www.plesseysemiconductors.com/products/microleds
Visit: www.EVGroup.com