27 November 2018
SEMI issues first power and compound fab outlook
© Semiconductor Today Magazine / Juno PublishiPicture: Disco's DAL7440 KABRA laser saw.
Global industry association Semiconductor Equipment and Materials International (SEMI) has announced what it says is the industry's first data on worldwide fabrication plants for power and compound semiconductors, with the new report 'Power and Compound Fab Outlook' providing front-end semiconductor fab information (including over 890 listings spanning 530 compound-related and over 430 power-related facilities) and a forecast (quarter by quarter) to 2022 for global manufacturing capabilities (fab construction, capacity and equipment investments).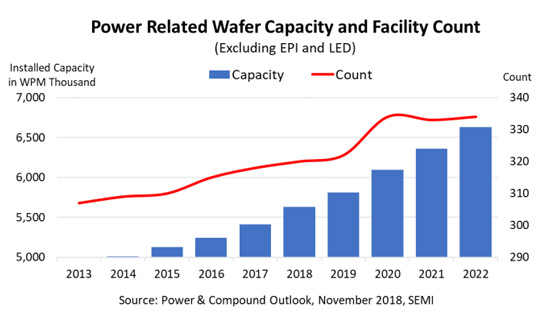 Power devices are becoming important as energy-efficiency standards tighten to meet growing demand for power-thrifty high-end consumer electronics, wireless communications, electric vehicles (EVs), green energy, data centers, and both industrial and consumer IoT (Internet of Things) applications. Semiconductor fabs around the world have responded with improvements to power usage in every aspect of electronics including power harvesting, delivery, transformation, storage and consumption, says the report. Cost structure and performance are critical in power electronics, dictating the pace of market growth and technology adoption.
With compound materials driving significant gains in the energy efficiency of power devices, the 'Power and Compound Fab Outlook' report highlights particular compound materials that have been adopted in semiconductor fabs, providing information on related tool and material markets as well as power and compound materials capacity and investments in fabs by region, wafer size and product type. Materials covered include silicon carbide (SiC), gallium nitride (GaN), gallium arsenide (GaAs), indium phosphide (InP) as well as other III-V and II-VI materials. Technology highlighted includes metal-organic chemical vapor deposition (MOCVD), LEDs, epitaxy, IGBTs, HEMTs, MOSFETs, BCDs and other devices.
Tags: SEMI
Visit: www.semi.org/en/power-compound-fab-outlook