10 October 2018
Compound Semiconductor Centre wins Collaboration title at Made in Wales Awards
© Semiconductor Today Magazine / Juno PublishiPicture: Disco's DAL7440 KABRA laser saw.
The Compound Semiconductor Centre Ltd (CSC) - a joint venture founded in 2015 between Cardiff University and epiwafer foundry and substrate maker IQE plc of Cardiff, Wales, UK - has won the title for collaboration at Insider Media's 'Made in Wales' awards, presented during a gala ceremony at Cardiff City Hall on 4 October.
The title was awarded for the breadth and scope of the company's collaborations, particularly within the emerging regional compound semiconductor cluster (CSconnected) with partners including; IQE,SPTS, Microsemi, Newport Wafer Fab, Cardiff University, Swansea University, Compound Semiconductor Applications Catapult, Cardiff Capital Region City Deal and Welsh Government.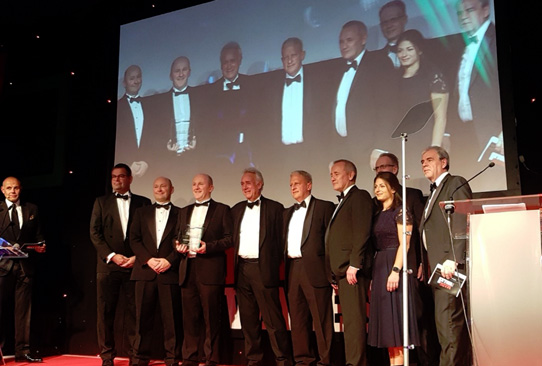 Picture: CSconnected partners at Made in Wales Awards Ceremony Credit: MandMCommunications.
In the last 18 months CSC has secured and initiated nine collaborative R&D projects (worth more than £6m) in a range of applications including Telecommunications, Power Electronics, Sensing, Healthcare and Quantum Technologies.
CSC typically concentrates on delivering opportunities that are 1-3 years from market exploitation through well-defined delivery paths made possible by effective collaboration with our project partners. CSC is currently engaged with 4 UK universities, 2 UK research organizations and 15 UK industrial partners in co-creation of new processes, products and device applications.
"The CSC and our partners are extremely pleased to win this award ahead of tough competition from GE Aviation and Creo Medical, who were also shortlisted," says CSC's managing director Dr Wyn Meredith. "The award recognizes the impact of close and focused collaboration between businesses, academia and government agencies," he adds.
"I would also like to extend my congratulations to [Newport-based] SPTS, who also won the title of 'Manufacturer of the Year'," continues Meredith. "The fact that representatives from the compound semiconductor cluster scooped two awards is testament to the growing importance of our industry sector to the regional economy."
CSC wins Research and Collaboration title at 2017 TechWorks Awards
CSC formally launched as first compound semiconductor cluster
IQE and Cardiff University establish JV to develop and commercialize compound semiconductor technologies in Europe
Tags: IQE
Visit: http://compoundsemiconductorcentre.com