23 October 2018
Micro-LED display market to grow at CAGR of 115% from $250m in 2018 to over $14bn in 2024
© Semiconductor Today Magazine / Juno PublishiPicture: Disco's DAL7440 KABRA laser saw.
The micro-LED display market will surpass $250m in 2018, and shipments will grow at a compound annual growth rate (CAGR) of over 115% to more than $14bn in 2024, forecasts a report by Global Market Insights Inc.
The micro-LED display market has proliferated from several consumer and commercial applications, where innovations in displays led to continuous demand. Consisting of arrays with each micro-LED operating as a pixel, modules are becoming smaller, resulting in better, brighter image quality and much improved response time in displays.
As it is increasingly being substituted for primitive display technology, the micro-LED display industry has also allowed for power saving in applications where large-size panels used excessive energy to communicate information.
In an era when flexibility and ease of adaptability are considered to be paramount features for long-term survival of any technology, the ability to be integrated into both small as well as large display equipment (depending on use) has accentuated global micro-LED display market growth.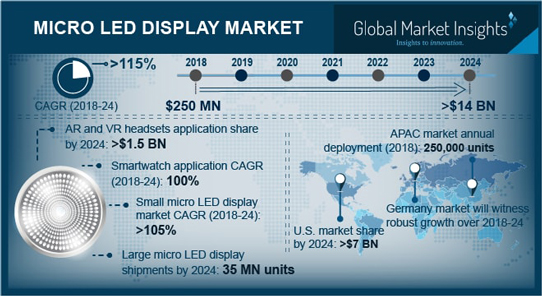 The rising number of miniaturized electronic products has inspired manufacturers to develop small-size panels incorporating micro-LED technology, since an improved display not only signifies a product's quality but is also safer for a consumer's eyes. Adoption of the technology in everyday display devices such as screens, signage, near-to-eye devices, head-mounted displays (HMDs) and automotive lights will hugely benefit the micro-LED display market. Compared with organic light-emitting diodes (OLEDs) or other display technologies, the brighter micro-LEDs do not lose their luster due to natural aging over time (maintaining the quality of picture and brightness) whereas OLEDs manufactured at the same time start to fade. Placing individual parabolic mirrors behind LEDs causes all the light to be reflected towards the viewer, resulting in a very high brightness capability and making the micro-LEDs more power efficient. Due to these characteristics of long life and high efficiency, the micro-LED display industry is gradually being embraced by the booming smartwatch segment.
It is forecasted that in the next three years smartwatch sales could surpass 80 million units, indicating the micro-LED display market's growth potential. Smartwatches can perform numerous functions, ranging from displaying time & messages, picking up phone calls to GPS tracking, measure heart rates and other health factors. Needing to communicate all this information throughout the day while consuming less energy in order to last a whole day, the smartwatch segment is regarded as an ideal consumer market for powerful and long-lasting small micro-LED display panels. Prospects for the micro-LED display market can be surmised by looking at the sales figures of smartphone giant Apple, which sold 8 million Apple watches in fourth-quarter 2017.
Apple recently said that it shipped about 3.5 million smartwatches in second-quarter 2018, leading the smartwatch segment. The firm is investing heavily in using micro-LED technology in its smartwatches. Fossil, which is primarily into analog and chronograph watches, has ventured into the smartwatch domain and reported improved sales of $300m from wearable devices. With a host of other players like Fitbit, Garmin, Xiaomi and Samsung looking to introduce better smartwatch products, and other near-to-eye display devices like AR/VR headsets gaining popularity at an immense rate, the small micro-LED display market is expected to see a CAGR of over 105% from 2018 to 2024.
The progress of the large micro-LED display market has also been extraordinary, ensuing from significant advances in developing innovative display panels that can fit together to create big screens or signs.
In early 2018 Samsung unveiled its new 146-inch screen ('The Wall'), which is a micro-LED modular TV consisting of several 9.37-inch display modules. At the same time, another Korean company Lumens also revealed its 139-inch and 130-inch signs, made of large-size micro-LED displays. With businesses worldwide depending on effective marketing channels to convert their investments into profits, billboards and public signages are a prominent solution to market all kinds of products. Digital signage can be built depending on outdoor or indoor use, and LED panels can easily be added or removed to adjust the sizes. With closely placed fine-pitched LED panels, high-resolution images and videos can be displayed to consumers and directly affect sales of displayed products.
Overall, the micro-LED display market is driven by continuous innovations, for example the recent collaboration of Taiwan's Industrial Technology Research Institute (ITRI) with Unimicron, Macroblock and PlayNitride for producing ultra-fine pitch micro-LED signage modules by 2019. The introduction of commercially viable products by dominant industry players - including Samsung, Apple, Epistar, Lumens, Innolux, LG, Oculus VR, Allos Semiconductors and VueReal - will critically expand the micro-LED display market in the ensuing years, concludes Global Market Insights.
Tags: LED market
Visit: www.gminsights.com/industry-analysis/micro-led-display-market