23 October 2018
France's Leti and Taiwan's NARLabs to collaborate on R&D projects
© Semiconductor Today Magazine / Juno PublishiPicture: Disco's DAL7440 KABRA laser saw.
In a new collaboration to facilitate a scientific and technological exchange between France and Taiwan, Grenoble-based Leti (a micro/nanotechnology research institute of France's CEA Tech) and Taiwan's National Applied Research Laboratories (NARLabs) - a non-profit research institute established in 2003 under the guidance of Taiwan's Ministry of Science and Technology (MOST) - have agreed to explore opportunities for joint R&D projects in high-performance computing and networks, photonics, bio-medical nanotechnologies and brain-computer interface.
The research institutes' scientists will meet in a series of workshops to initiate joint R&D projects. The agreement also includes access to each other's unique equipment and platforms, and will offer opportunities to researchers with a specific exchange program.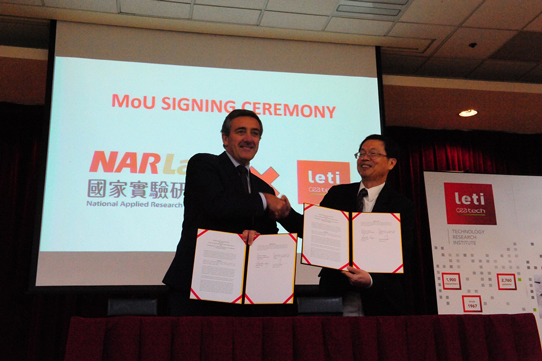 The agreement was signed by CEA-Leti's CEO Emmanuel Sabonnadière and NARLabs' president Yeong-Her Wang on 19 October during the Leti Day Seminar in Hsinchu Science Park, Taiwan.
"CEA-Leti and NARLabs have the same goals: to create differentiating technologies and transfer them to industry," said Sabonnadière. "This cooperation agreement will be the starting point for a strategic research cooperation between our organizations that will strengthen R&D and inspire microelectronics innovation in both Taiwan and France," he added.
"The National Chip Implementation Center (CIC) and the National Nano Device Laboratories (NDL) of National Applied Research Laboratories (NARLabs) have fostered close ties with CEA-Leti since 2017," noted NARLabs' vice president Wu Kuang-Chong. "Around the Leti Day Taiwan, we held seminars together, and our researchers were able to meet and exchange ideas. Topics included silicon photonics, intelligent image sensors, RF technology, 3D IC+ and device fabrication technology, among others," he adds. "With this memorandum of understanding, CEA-Leti and NARLabs will continue to collaborate together to complement and to enlighten each other to formulate innovative research projects."
Tags: Leti
Visit: www.narlabs.org.tw/en
Visit: www.leti.fr