30 October 2018
Pfeiffer Vacuum opens new North American headquarters building in Nashua, NH
© Semiconductor Today Magazine / Juno PublishiPicture: Disco's DAL7440 KABRA laser saw.
Pfeiffer Vacuum of Asslar, Germany (which provides high-tech vacuum solutions for the semiconductor, industrial, coating, analytical and R&D markets) has opened a new two-story, 27,000ft2 building in Nashua, NH, USA that will be home to its North American headquarters for administration, sales, product management, marketing and customer care.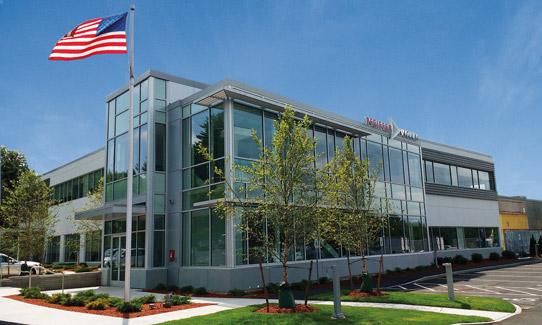 Picture: Pfeiffer Vacuum's new facility in Nashua, NH, USA.
In parallel, the former 24,000ft2 administration building has been converted into a Service Center of Excellence, bringing together under one roof all service activities for the major part of the Pfeiffer Vacuum product portfolio. Automated cleaning and test equipment is being utilized, resulting in fast repairs. This joins the service center in Austin, Texas (which has a strong presence in the semiconductor industry).
"With the completion of the two facilities, Pfeiffer Vacuum will be able to better support our valued customers throughout North America, while at the same time providing a modern, best-in-class work environment for our staff," says Daniel Saelzer, president of Pfeiffer Vacuum Inc.
Tags: vacuum
Visit: www.pfeiffer-vacuum.com