14 September 2018
IR LED market growing at 15% CAGR to over $1bn by 2024
© Semiconductor Today Magazine / Juno PublishiPicture: Disco's DAL7440 KABRA laser saw.
The infrared (IR) LED market will exceed $1bn by 2024, as shipments rise from over $400m in 2017 then at a compound annual growth rate (CAGR) of over 15% between 2018 and 2024, forecasts a report by Global Market Insights Inc that covers wavelength ranges of 700-850nm, 850-940nm, 940-1020nm and 1020-1720nm.
The IR LED market is expected to see significant growth due to increasing demand for cameras with night-vision capabilities and remote sensing in the automotive and consumer electronics industries. Automotive demand has grown due to increasing usage in exterior and interior lighting. Moreover, the IR LED market has tremendous opportunities for future growth with integration into wearable devices such as augmented reality (AR)/virtual reality (VR) and with the emergence of Internet of Things (IoT)-enabled devices.
By wavelength range, the 700-850nm and 850-940nm segments are expected to grow at a CAGR of over 17%, due to increasing use in numerous applications, especially in the automotive and industrial sectors for 850-940nm.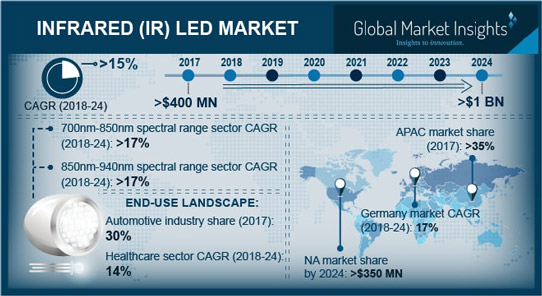 A growth segment in the infrared LED market is the biometrics industry, due to increasing adoption of iris and facial recognition in electronic devices, driven by mobile payment services that create the need for secure and reliable authentication for users. Several LED makers are taking advantage of these opportunities and are launching advanced components for biometric applications. For example, Chinese electronics retailer GOME recently collaborated with German LED maker Osram Opto Semiconductors GmbH to integrate infrared components for iris recognition technology into all their smartphones. The growing global smartphone industry is projected to boost the IR LED market for iris and facial recognition.
The North America IR LED market is expected to exceed $350m by 2024 due to increasing demand from the surveillance industry. The USA has been the main country adopting advanced surveillance technologies such as artificial intelligence, facial recognition and surveillance automation. Demand for such technologies is rising across airports, commercial buildings and other public buildings, particularly as surveillance is integral to the USA for law enforcement and is part of its critical national infrastructure.
Vendors in the infrared LED market space include Everlight, Vishay Intertechnology, Epistar, and Rohm Semiconductor. To cater to demand from growing applications in consumer electronics, the industry is seeing extensive investment in IR LEDs. To gain market share, players have been focusing on new product launches and targeting the consumer electronics segment. In 2018, Osram Opto Semiconductors has expanded its product portfolio by announcing six new IR LEDs (IREDs) for automotive use, including 850nm components for applications such as pedestrian protection, night vision and other exterior applications and 940nm components for applications such as gesture recognition, driver monitoring, and other interior applications.
Considering the demand and huge potential, several companies in the industry have shifted their focus to the infrared LED market. For example, in 2017 Everlight reported that IR LEDs contributed 25% of its total revenue. For Epistar, its market share in these LED chips was over 10% of all aluminium gallium indium phosphide (AlGaInP) chip output in 2015, the report notes.
Tags: LED market IR LED
Visit: www.gminsights.com/industry-analysis/infrared-ir-led-market