19 September 2018
Osram launches its first VCSEL
© Semiconductor Today Magazine / Juno PublishiPicture: Disco's DAL7440 KABRA laser saw.
After its acquisition in May of Vixar Inc of Plymouth, MN, USA - a fabless company specializing in vertical-cavity surface-emitting laser (VCSEL) technology - Osram Opto Semiconductors GmbH of Regensburg, Germany is launching its first VCSEL product family with the Bidos PLPVQ 940A, paving the way for new areas of application such as 3D sensing.
The VCSEL can act as a light source for facial recognition in mobile devices, illuminating the face evenly with infrared light for a camera to capture the significant features of the user. The image is then compared with the image of the user stored in the system – if the two match, then the device will be unlocked.
VCSELs combine the outstanding properties of two lighting technologies – the high power density and simple packaging of an infrared LED (IRED) coupled with the spectral width and speed of a laser. But, unlike edge-emitting laser diodes, Bidos (as a VCSEL) emits light perpendicular to the chip's surface, and its wavelength is much less sensitive to temperature fluctuations. A VCSEL chip is also much easier to install in the end application – it can be glued into the package like an LED chip and can be used for example as an array (consisting of several hundred individual apertures per VCSEL chip).
"Compared with other infrared technologies, VCSELs offer better beam quality, excellent focusing and a very small footprint," notes Bianka Schnabel, marketing manager for the Emitter Laser Sensor segment at Osram Opto. "Customers can now choose the best solution for their specific application from our extended infrared portfolio – whether it's IRED, laser or VCSEL."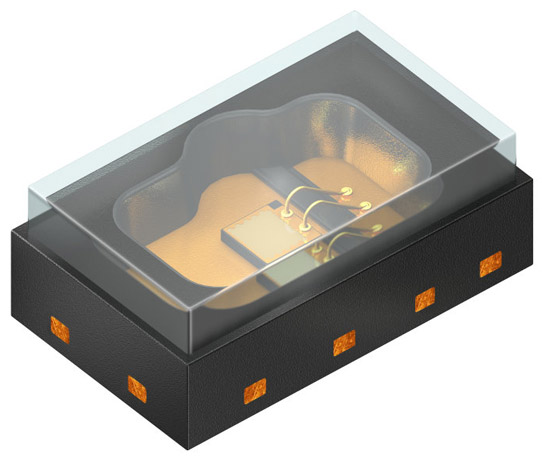 Picture: The new Bidos PLPVQ 940A VCSEL.
With a wavelength of 940nm, the PLPVQ 940A has a maximum efficiency of 27% and an output of 300mW. Two bond wires supply the laser diode uniformly and rapidly with energy. The angle within which the VCSEL provides illumination is 65° x 78°. Its package measuries just 1.90mm x 2.20mm x 0.85mm.
In addition to facial recognition, suitable applications of the VCSELs include robotics, drones, augmented reality and virtual reality.
Osram acquiring VCSEL firm Vixar
Visit: www.vixarinc.com
Visit: www.osram-os.com