21 September 2018
Power module packaging materials market growing at 8.2% CAGR to $1.9bn in 2023
© Semiconductor Today Magazine / Juno PublishiPicture: Disco's DAL7440 KABRA laser saw.
The power module packaging materials market is worth $1.2bn (just more than a third of the total power module market) and is rising at a compound annual growth rate (CAGR) of 8.2% during 2017-2023 to $1.9bn, forecasts market research and strategy consulting firm Yole Développement in its 'Power Module Packaging Report, 2018 edition'.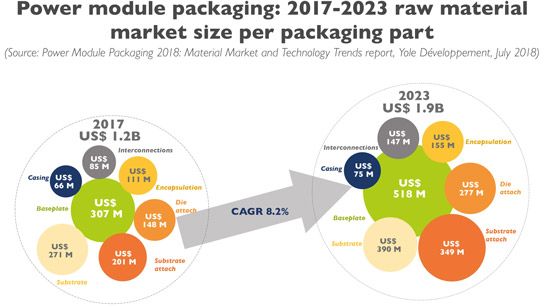 "It is a very dynamic market, where continuous innovations and material enhancements and a lot of R&D investment are needed," comments Alejandra Fuentes Suarez, technology & market analyst at Yole.
Technical innovations in power module packaging (such as silver sintering, new substrates and interconnection technologies) are driven mainly by the challenging system requirements of the booming electric/hybrid electric vehicle (EV/HEV) industry and the entrance of the wide-bandgap (WBG) semiconductors materials silicon carbide (SiC) and gallium nitride (GaN), which allow devices to work at higher switching frequencies and higher junction temperatures.
The EV/HEV industry's demand for high power density and mechatronics integration is driving many power electronics innovations with dedicated packaging solutions. New standards in terms of electrical devices and systems are becoming a reality, pushing electronic components to work in non-conventional environments for longer.
Step by step SiC technologies are hence becoming an essential solution to meet industrial requirements, with a market forecast growing at a 29% CAGR over 2017-2023. An example of WBG penetration is the latest Model3 inverter of car maker Tesla, showing the added-value of STMicroelectronics' SiC power module.
The latter has been reverse engineered by Yole company System Plus Consulting, whose report 'Automotive Power Module Packaging Comparison 2018' details the physical composition and cost of ten modules for automotive applications from five different manufacturers. After reviewing the different topologies and techniques used for the module packaging, System Plus Consulting's analysts highlight the specificities of each solution, defined by the car makers. "There is not yet a standardized package in automotive application," concludes Farid Hamrani, cost engineer at System Plus Consulting.
With two major technical trends, over-molded double-side cooled modules for hybrid cars and single-side cooled modules with pin-fin baseplates for full electric cars, this industry is dominated by insulated-gate bipolar transistor (IGBT) power modules: "The IGBT power module market grew 18.1% in 2017," says Dr Milan Rosina, senior technology & market analyst, Power Electronics & Batteries, at Yole. "No doubt today that IGBT modules are driving the power module packaging materials business." Indeed, 2017 was an impressive year for the IGBT power module market. And 2018 perspectives are even better, with over 20% growth in first-half 2018, due mainly to the EV/HEV sector (especially in China).
It has also been an exceptional year for industrial motor drives in Asia. In parallel, other device modules (like those based on MOSFETs and bipolar transistors) show a slight decrease.
Consequently, the overall power module market is expected to grow to more than $5.5bn in 2023, directly benefitting the packaging material market.
Yole and System Plus Consulting are exhibiting in booth # A4667 at Semicon Europa 2018 and Electronica 2018 in Munich, Germany (13-16 November), where Yole is also presenting two key power electronics & compound semiconductor presentations on 15 November:
'How battery pack evolutions create opportunities for power electronics companies' (12:20pm, during the Battery Session);
'GaN power HEMT reliability research within the POWERBASE' (2pm, during the Power Electronics Session).
Tags: Yole Power electronics SiC GaN
Visit: www.i-micronews.com/category-listing/product/