26 August 2019
BluGlass opens new manufacturing and demo labs
At its facility in Silverwater, Sydney, Australia, BluGlass Ltd – which was spun off from the III-nitride department of Macquarie University in 2005 – has formally opened its Paul Dunnigan laboratories – named after its late engineer Paul Dunnigan (who contributed to developing both the firm's RPCVD hardware and facility) – in the presence of members of his family and the City of Parramatta Lord Mayor councillor Andrew Wilson.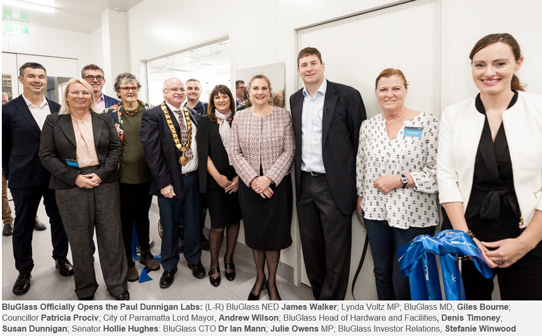 BluGlass is developing and commercializing its proprietary low-temperature remote-plasma chemical vapor deposition (RPCVD) technology for manufacturing group III nitrides, offering better-performing, lower-cost devices and more environmentally sustainable processes for producing LEDs for automotive and overhead LED lighting, micro-LEDs for wearables and virtual reality (VR) displays, and power electronics for efficient power conversion.
Representing an investment of over $6m in additional equipment and associated infrastructure, the new labs incorporate two new cleanrooms housing two additional RPCVD systems, significantly expanding the firm's operational and manufacturing capacity.
The first of these new systems, the BLG-300II, is now commissioned and has started wafer growth runs using BluGlass' patented RPCVD process and has already expanded the firm's operational capacity. BluGlass aims to commission the second – its largest ever RPCVD system – by retrofitting a commercial-scale AIX 2800 G4, in collaboration with equipment maker Aixtron SE of Germany, for operation by the end of 2019. Together, the lab, with the two new systems (BLG-300II and RPCVD G4), will more than triple BluGlass' RPCVD wafer capacity and customer output in process and equipment development while also demonstrating RPCVD's benefits in cost, scale and flexibility to the global opto industry.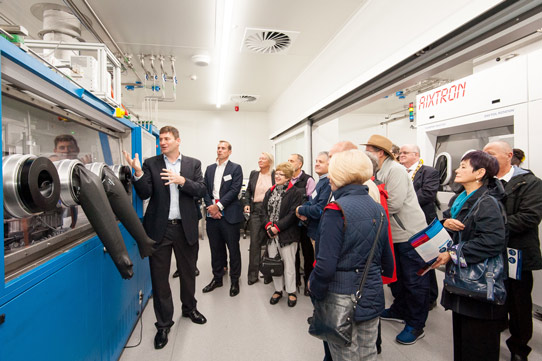 Output from the new facilities will be used in commercial contracts, on collaborations with commercial partners, and as part of BluGlass' continuing development of RPCVD for the manufacture of LEDs, micro-LEDs, laser diodes, power electronics and other optoelectronic devices.
"These new systems and infrastructure allow us to expand our revenue-generating epitaxy foundry services, accelerate our RPCVD development for commercial applications, and will provide the foundation for our continued negotiations with leading specialist optoelectronics manufacturers around the world," says BluGlass' CEO & managing director Giles Bourne.
BluGlass brings online BLG-300II upgraded RPCVD system
Visit: www.bluglass.com.au