13 February 2019
Seoul Semiconductor's SunLike Series natural-spectrum LEDs adopted by Rofianda for horticulture LED lighting
South Korean LED maker Seoul Semiconductor Co Ltd says that its SunLike Series natural-spectrum LEDs have been adopted for horticulture LED lighting by Tilburg-based lighting firm Rofianda B.V. of The Netherlands (the world's second largest agricultural exporter).
Natural sunlight is a key factor in a plant's growth cycle, but most growers cultivating a variety of crops under sunlight have experienced difficulties in regulating their growth cycles due to adverse seasonal conditions. Replacing sunlight with LED lighting that closely matches natural sunlight enables growers to control the growth cycles and development of crops year-round in greenhouses and indoor farms.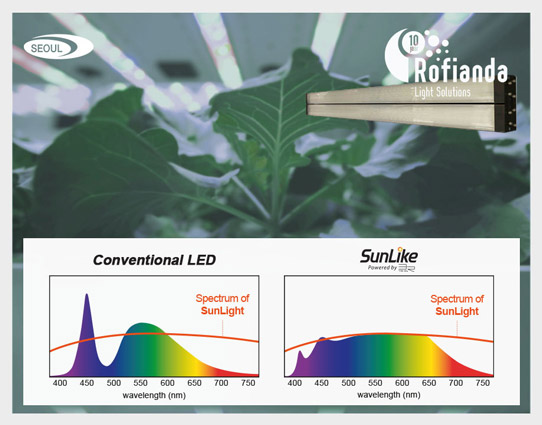 SunLike Series natural-spectrum LEDs are claimed to be the first LEDs to produce light that closely matches the spectrum of natural sunlight. The LEDs adopted by Rofianda achieve a full spectrum of light wavelengths from 380nm to 740nm, similar to the spectral curve of natural sunlight, with a color temperature of 5600K optimized to daylight spectra and color properties of CRI97 and CQS97. Seoul Semiconductor says that, in co-operation with Rofianda, it has delivered an optimal horticulture lighting solution that fulfills the requirements of the light source for effective cultivation of all varieties of crops, flowers and cannabis.
Rofianda is introducing its horticulture lighting with SunLike at the annual HortiContact Fair in Gorinchem, The Netherlands (19–21 February).
"SunLike Series natural spectrum LEDs are the first and only true sunlight LEDs that enable growers to ensure better yields and a consistently high quality of crops," comments Rofianda director Ronald Gronsveld. "Market demand for horticultural LED lighting with SunLike LEDs will expand," he believes.
"The horticulture lighting market is growing fast, and our SunLike Series natural-spectrum LEDs will offer the considerable benefits for customers to achieve optimal horticulture lighting solutions," reckons Ki Bum Nam, sales & marketing vice president at Seoul Semiconductor.
SunLike Series natural spectrum LEDs were co-developed through the combination of Seoul Semiconductor's optical semiconductor technology and Toshiba Materials' TRI-R technology, which defines its original concept as "the light closest to the sun for human well-being". TRI-R technology enables the spectrum of natural sunlight to be reproduced by a white LED light source.
Seoul Semiconductor's Horticultural Series LEDs deliver entire spectrum from UV-C to far-red
Tags:  Seoul Semiconductor LEDs
Visit:  www.SeoulSemicon.com