25 February 2019
Skyworks unveils Sky5 Ultra platform for 5G cellular front-ends
Skyworks Solutions Inc of Woburn, MA, USA (which manufactures analog and mixed-signal semiconductors) has launched its most advanced 5G cellular architecture yet, the Sky5 Ultra.
Leveraging decades of systems expertise, Skyworks has developed a fully integrated, baseband-agnostic solution that combines all of the critical front-end functionality required to enable high-performance 5G mobile devices with global coverage in a compact form factor.
The platform features what are claimed to be best-in-class transmit and receive capabilities with high efficiency and output power, enabling highly reliable network connections while optimizing battery life (both critical for 5G applications). In addition, the Sky5 Ultra leverages DSBGA packaging, dramatically reducing the footprint, and advanced TC-SAW and BAW filtering, uniquely providing what is claimed to be the best performance at each targeted frequency band. The solution also supports up to 100MHz-wide bandwidth, maximizing data throughput at ultra-fast speeds.
With industry momentum accelerating towards 5G, the Sky5 portfolio is a highly flexible and customizable suite designed to meet global requirements, says Joel King, senior VP & general manager of Mobile Solutions. "Sky5 Ultra represents another breakthrough in simplifying the growing complexity of 5G device development — delivering unmatched performance while expediting deployment through full integration and optimized form factors," he clams. "We are empowering top mobile device manufacturers and network providers with complete, turnkey solutions that will ultimately bring 5G to realization."
5G rollouts have already begun and will continue to ramp over the next few years. According to the Global Mobile Suppliers Association, 11 worldwide operators have announced limited 5G service launches and seven additional operators have turned on 5G base stations, with commercial services to follow.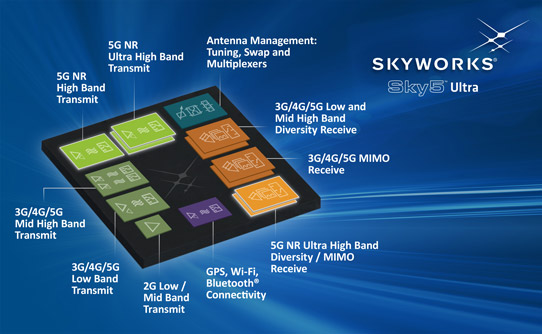 Sky5 Ultra incorporates Skyworks' high-efficiency transmit, diversity receive (DRx) and MIMO modules with what is claimed to be industry-leading noise figure and low insertion loss, in addition to an array of aperture tuners and antenna swap switches for optimal antenna management. Like all Sky5 solutions, the comprehensive front-end platform supports new 5G NR waveforms and spectrum in addition to enhanced carrier aggregation and 4G/5G dual connectivity, while delivering high levels of integration and performance. Functional core blocks include:
Primary transmit (Global)
SKY5-8255 – dual-chain N77/N79 ultra-high-band power amplifier with integrated low-noise amplifier and filters (LPAMiF);
SKY5-8254 – N41 high-band power amplifier with integrated filter (PAMiF);
SKY5-8265 – mid/high-band power amplifier with integrated low-noise amplifier and duplexers (LPAMiD) with DSBGA packaging;
SKY5-8211 – low-band LPAMiD;
SKY5-8212 – low-band LPAMiD with DSBGA packaging;
SKY77365 – global system for mobile communications (GSM) power amplifier.
5G diversity/MIMO (Global)
SKY13725 – low-band DRx module with DSBGA packaging;
SKY13726 – mid/high band DRx module with DSBGA packaging;
SKY13727 – mid/high band MIMO module with DSBGA packaging;
SKY5-3728 – Ultra-high-band N77/79 DRx/MIMO module with SRS support.
Connectivity (GPS, Wi-Fi, Bluetooth)
SKY65725-81 – shielded GPS module;
SKY65728-11 – L5 shielded GPS module;
SKY85819-11 – WLAN/GPS antenna share module;
SKY85817-11 – dual-band LAA/WLAN module;
SKY85774-11 – 5GHz LAA/WLAN module.
Antenna management
SKY5-9269 – SP4T 80v aperture tuning and RF distribution switch;
SKY5-9256 – 4 x SPST 45v aperture tuning switch;
SKY5-9699 – DPDT antenna swap switch.
Skyworks representatives are present in the Executive Meeting Area in Hall 2, 2G3Ex and 2G5Ex at the Mobile World Congress (MWC19) Fira Gran Via, Barcelona, Spain (25-28 February).
Skyworks validates Sky5 platform for 5G NR bands
Skyworks launches 5G antenna tuning solutions
Tags:  Skyworks
Visit:  www.mwcbarcelona.com
Visit:  www.skyworksinc.com/Sky5