29 January 2019
nLIGHT launches 400W passively cooled semiconductor laser
nLIGHT Inc of Vancouver, WA, USA (which was founded in Seattle in 2000 and provides high-power semiconductor and fiber lasers for industrial, microfabrication, aerospace and defense applications) has launched the element e24i, a 400W fiber-coupled packaged laser small enough to fit in the palm of your hand.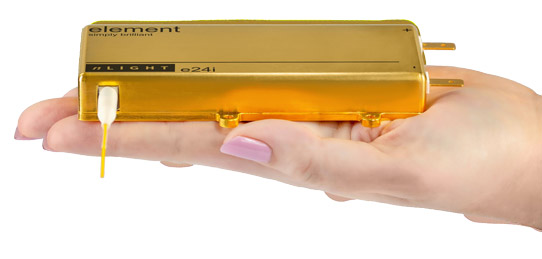 "The e24i represents a major step forward in power, brightness and packaging for a semiconductor laser," claims Michael O'Connor, general manager of nLIGHT's Semiconductor Laser Business. "This product enables our customers to scale to new power levels with favorable economics."
Delivering 400W of output power at 915nm or 375W at 976nm from a 200µm fiber, the element e24i is said to greatly simplify the system architectures of direct diode, solid-state and fiber lasers for industrial, microfabrication and defense applications.
"nLIGHT is committed to enabling our customers with differentiated products that further their growth and competitive advantage," says O'Connor.
nLIGHT is exhibiting the element e24i at the SPIE's Photonics West 2019 event in San Francisco, CA, USA (5–7 February).
Tags:  Laser diodes
Visit:  www.spie.org/SPIE_PHOTONICS_WEST_Conference
Visit:  www.nlight.net