31 January 2019
Solar Frontier raises thin-film solar cell efficiency record from 22.9% to 23.35%
In joint research with the Japan National Research and Development Agency's New Energy and Industrial Technology Development Organization (NEDO), Tokyo-based Solar Frontier – the largest manufacturer of CIS (copper indium selenium) thin-film photovoltaic (PV) solar modules – has set a new record for thin-film solar cell energy conversion efficiency, achieving 23.35% on a 1cm2 cell using cadmium (Cd)-free CIS technology. This is a 0.4 percentage point increase over the prior record of 22.9% that Solar Frontier set for Cd-containing CIS thin-film solar cells in November 2017. The new mark sets a record for all CIS thin-film solar cell types.
The latest result was independently verified by Japan's National Institute of Advanced Industrial Science and Technology (AIST) in November.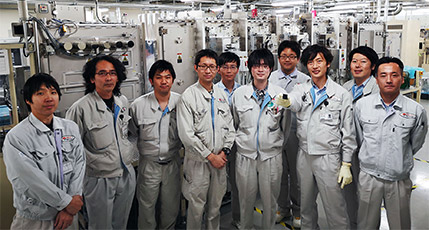 Picture: The technical development team that achieved the -record efficiency.
The record was achieved through R&D on technologies such as CIS absorber engineering and enhanced surface treatment of the absorber – used together with Solar Frontier's proprietary Cd-free CIS thin-film technology. Making performance improvements to each of the technologies then combining them under optimal conditions led to the new record.
Solar Frontier raises thin-film solar cell efficiency record from 22.6% to 22.9%
Tags:  CIS thin-film PV modules
Visit:  www.solar-frontier.com