15 July 2019
High-power LED market to grow at 4.5% CAGR from $4.5bn in 2019 to $5.6bn in 2024
The high-power LED market will rise at a compound annual growth rate (CAGR) of 4.5% from $4.5bn in 2019 to $5.6bn by 2024, according to a report from MarketsandMarkets. The main factors fueling growth are the long life and continuous usage, small size, less power consumption and low voltage, as well as increasing high-brightness applications.
Mesa LED packaging leading the market
Mesa packaing (i.e. traditional horizontal packaging) is the standard chip design for lighting applications. Such LEDs do not require electrical conduction for the die bonding materials but require two wires electrically connected to the two electrodes on different sides of a substrate. Both the substrate and the die bonding materials must be electrically conductive. Despite currently leading the high-power LED sector, the use of this traditional horizontal LED packaging technology is likely to be limited in the near future due to its disadvantages compared with other packaging types.
High-power LED with vertical packaging to grow at considerable CAGR to lead market
Consisting of a conductive substrate at the bottom (forming a bottom electrode) so that current flows vertically, the vertical packaging structure is used predominantly for high- and superhigh-power applications. These advantages will help the market to grow at a higher CAGR than the mesa packaging, reckons the report.
General lighting to lead applications
Residential, commercial, industrial, outdoor and architectural lighting are the major segments in general lighting applications of high-power LEDs, with tremendous growth potential expected in the industrial, corporate and residential sectors due to their high efficiency and smarter lighting capability. As lighting applications comprise about 10% of global electricity consumption, improving the effectiveness of these light sources becomes essential to help reduce global carbon emissions. The use of high-power LEDs will improve energy efficiency and also provide high brightness, driving market growth.
Flash lighting applications to see high growth
Demand from mobile phone users for cameras providing high-quality image capture in dim light environments (such as night clubs and restaurants) has compelled smartphone makers to include high-power LEDs in a flash lighting module. Often the light available for taking photographs from mobile phones is insufficient, so the use of flashlight units as an additional light source is essential. Conventional LEDs produce 6–7lm, whereas high-power LEDs can deliver more than 80lm. The increased demand for smartphone applications will drive the high-power LEDs in a flash lighting application.
North America to be fastest-growing region
The USA is expected to be the main contributor to the high-power LED market in North America, based on its well-established economy; the presence of some leading high-power LED suppliers; and large demand from leading suppliers of smartphones, televisions, smart wearables, automotive lightings, and general lighting. Rapid adoption of the latest technologies, along with the growing number of applications, is another major factor contributing to the projected prominence of North America in the high-power LED market in the coming years. Many leading companies, such as HP, Dell and Apple, are headquartered in the USA, and are expected to play a key role in the growth of the high-power LED market for display backlighting application in North America. Cree and American Bright Optoelectronics are among the major high-power LED companies based in North America.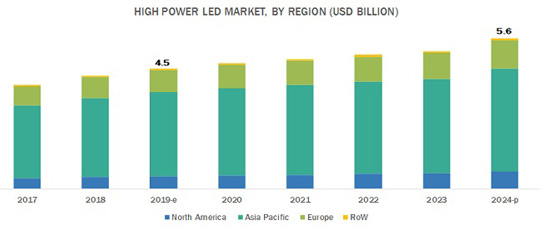 Europe to account for substantial share of market
With significant technological innovations taking place there, Europe is an important region in the high-power LED market, with the UK, Germany and France being key European countries that have been contributing significantly via key high-power LED manufacturing companies such as Osram, Lumileds and Plessey Semiconductors. Germany, UK, and France together are expected to hold a significant share of the high-power LED market, with general lighting and automotive lighting applications offering numerous growth opportunities.
The main high-power LED vendors are cited as Cree (US), Nichia (Japan), Osram (Germany), Samsung (South Korea), Everlight (Taiwan), Lumileds (Netherlands), Epistar (Taiwan), LG Innotek (South Korea), Broadcom (US), MLS (China), and Seoul Semiconductor (South Korea). Other companies include Luckylight Electronics (China), Plessey Semiconductors (UK), Betlux Electronics (China), Effilux (France), Lite-On Technology (Taiwan), Crescent LED (UK), Vollong Electronics (China), and Stanley Electric (Switzerland).
Tags: LED market
Visit: www.marketsandmarkets.com/