26 June 2019
Plessey's GaN-on-Si micro-LED emissive display wins two Electronics Industry Awards
At the 2019 Electronics Industry Awards at London's Tower Hotel, UK-based Plessey received the Display Product of the Year and the Embedded Solution Product of the Year for its micro-LED Emissive Display.
Plessey provides full-field emissive micro-LED displays combine very high-density RGB pixel arrays with high-performance CMOS backplanes to produce high-brightness, low-power and high-frame-rate image sources for head-mounted displays (HMDs) and augmented reality (AR) and virtual reality (VR) systems. The firm has 150mm and 200mm wafer processing facilities (to undertake design, test and assembly of LED products) as well as a suite of photonic characterization and applications laboratories.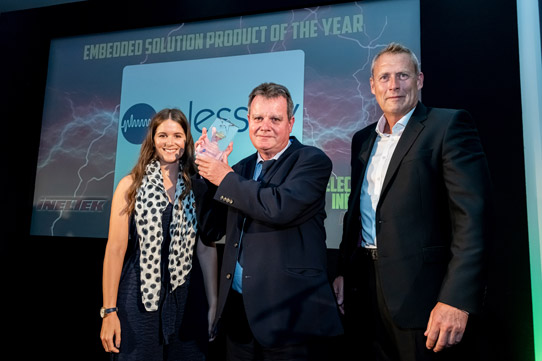 "As demand for micro-LED displays is accelerating, Plessey's GaN-on-silicon is recognized as the only technology platform capable of addressing all of the challenges involved with manufacturing micro-LED displays in high volumes cost-effectively," comments Niamh Marriot, editor of CIE magazine. "It is also one of the only viable solutions that can enable products that are not only compact enough to be worn without restricting the overall experience for AR [augmented reality] applications and in HUDs [head-up displays], but also provide the size, weight, power and luminance needed… With its integrated components and excellent thermal performance, it is a standout display," she adds.
"As the only provider of GaN-on-silicon monolithic micro-LEDs, Plessey is disrupting the display market with a technology that delivers a tangibly better consumer experience," says Mike Lee, Plessey's president of corporate & business development.
Tags: Plessey GaN-on-Si microLED