23 May 2019
Edge-emitting laser market still driven by traditional applications, but killer applications emerging
The edge-emitting laser (EEL) market is rising at a compound annual growth rate (CAGR) of 13% from $2.5bn in 2018 to more than $5bn in 2024, according to Yole Développement's report 'Edge Emitting Laser Market & Technology Trends'. "Growth is still driven by the optical communication market segment with optical systems for datacom and telecom," says technology & market analyst Martin Vallo PhD. "It is today the largest EELs segment, with 56% of the total revenue in 2018." However, some killer applications are emerging in parallel.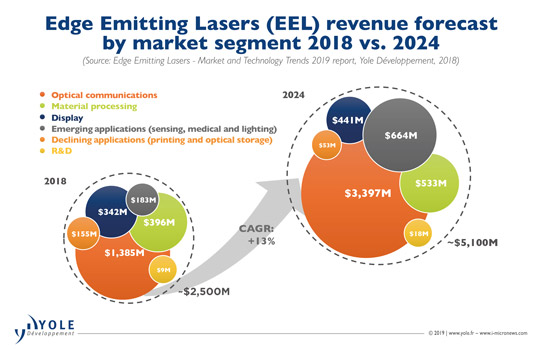 Since their development in the 1960s, lasers have been used increasingly in a large number of applications, propelling the market to a trillion dollar business since the 1990s. Laser technologies are now ubiquitous in many traditional as well as emerging applications, spanning material processing, optical communications, automotive front lighting, medical surgery and 3D sensing. The laser landscape is highly fragmented, with a wide variety of laser types, including diode lasers, fiber lasers, diode-pumped solid-state lasers (DPSSLs), CO2 lasers and excimer lasers. Traditional applications span industrial, scientific and consumer markets, but there are also many specific applications including military and biomedical markets with spectroscopic analysis.
"Edge-emitting lasers are showing different functionalities: they can be used as 'direct' lasers or coupled with optical fibers or crystals to make fibre lasers or DPSSLs," says Vallo. "As a consequence, the number of applications is impressive. Optical communication, material processing, medical, sensing, printing, display, optical storage and lighting," he adds.
In addition to the optical communication market segment, the material processing and display applications are also substantial, comprising 16% and 14% of the market, respectively, in 2018. However, their market shares will decline in the future as 3D sensing in LiDAR and face/gesture recognition as well as medical and lighting applications emerge in the next five years. These might represent potential killer applications for EELs in the mid/long term, reckons Yole.
The edge-emitting laser industry clearly has a bright future, but it also represents a challenging market. "There is a large variety of applications and system and device specifications, as well as a strong competitive landscape at the technology level, between direct diodes, fiber lasers, CO2 laser, DPSSLs and excimer lasers," comments business unit manager Pars Mukish.
Consequently, the edge-emitting laser industry is highly fragmented and diversified. Each application addresses a specific supply/value chain, and different positions have to be developed by industrial concerns to access different markets:
Leading players in the material processing domain are vertically integrated, from edge-emitting laser device to laser system (for example, making laser dicers), so customers require turnkey solutions for their specific manufacturing process.
For sensing or lighting applications, the trend is for companies to be much more specialized, as in pure EEL device manufacturers. This strategy is due to the numerous challenges at the device level concerning increasing performance, beam shaping and decreasing cost.
Another good example is the datacom industry, which exhibits diversity of positioning along the supply chain.
Tags: Laser diodes
Visit: www.i-micronews.com/products/edge-emitting-lasers