28 November 2019
LayTec adds UV-capable model to EpiTT VCSEL family
LayTec AG of Berlin, Germany has added to its EpiTT VCSEL (vertical-cavity surface-emitting laser) family of in-situ metrology instruments by launching the new EpiTT VCSEL UV, which combines spectral sensing of UV–vis (ultraviolet–visible) reflectance (300–800nm) with the capabilities of the EpiTT regarding wafer temperature sensing and high-accuracy multi-wavelength growth rate measurements.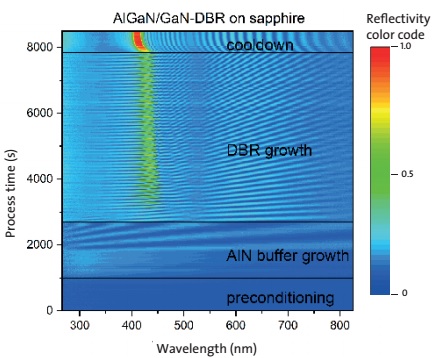 Picture: Spectral reflectance signature of an AlGaN/GaN DBR during growth in an Aixtron AIX200 RF/S reactor. The DBR stop-band is clearly seen at λ=420nm (growth) and 405nm after cooldown.
Professor Andrei Vescan and his team at Germany's RWTH Aachen University are using the new metrology tool to accelerate their projects for gallium nitride (GaN)-based optoelectronic device growth. The Figure shows the spectral in-situ reflectance signature of an AlGaN/GaN distributed Bragg reflector (DBR) as it is used in a novel type of GaN-based modulator device combining epitaxial III-N bottom DBRs with dielectric top DBRs.
The project 'Next-Generation LED' (13N14223/13N14224) has been funded by Germany's Federal Ministry of Education and Research (BMBF).
LayTec receives first order for EpiTT/VCSEL
Tags: LayTec Metrology MOCVD VCSELs
Visit: www.laytec.de/VCSEL