15 October 2019
Bosch develops silicon carbide chips, targeting power electronics for EVs/HEVs
Germany's Bosch has developed new silicon carbide (SiC) chips, targeted at power electronics for electro-mobility applications, specifically electric vehicles and hybrid electric vehicles (EV/HEV). Bosch is manufacturing the new generation of chips at its Reutlingen plant (25 miles south of Stuttgart), where it has been producing several million microchips every day for decades.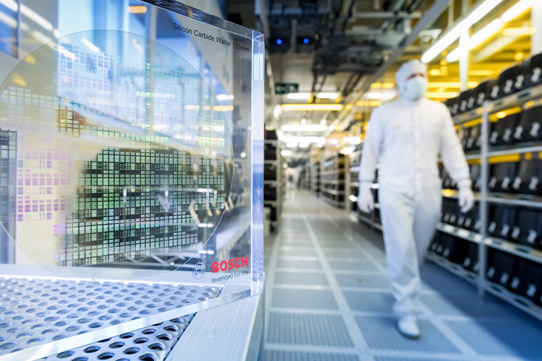 Picture: Silicon carbide semiconductors in Bosch's wafer fab in Reutlingen.
Compared with incumbent silicon, silicon carbide (which has higher electrical conductivity) sets new standards for switching speed, heat loss and size. In power electronics, it ensures that 50% less energy is lost in the form of heat. This translates into more efficient power electronics and more energy for the electric motor and therefore for battery range (enabling motorists to drive 6% further on a single charge).
Bosch aims to address one of the stumbling blocks for potential buyers of electric cars: nearly one in two consumers (42%) decide against buying an electric vehicle because they are afraid that the battery will run out in transit. In Germany, this anxiety is even more prevalent, affecting 69% of consumers (according to Consors Finanz Automobile Barometer 2019). Alternatively, car makers can make the battery smaller for a given range, reducing the cost of an electric vehicle's most expensive component, which in turn reduces its price.
SiC technology also offers further potential savings down the line: the much lower heat losses of the chips, combined with their ability to work at much higher operating temperatures, mean that manufacturers can cut back on the expensive cooling of the powertrain components. That has a positive impact on electric vehicles' weight and cost.
As the only automotive supplier that also manufactures semiconductors, Bosch will be using the SiC chips in its own power electronics. "Thanks to our deep understanding of systems in e-mobility, the benefits of silicon carbide technology flow directly into the development of components and systems," says board member Harald Kroeger. "As one of the leading manufacturers of automotive semiconductors, Bosch has been exploiting this globally unique advantage for almost 50 years," he adds. In addition to power semiconductors, these include microelectromechanical systems (MEMS) and application-specific integrated circuits (ASICs).
In 2018, the value of the chips in an average car was about $370 (€337) (according to ZVEI). While this amount is growing by 1-2% annually for applications not relating to infotainment, connectivity, automation and electrification, on average an electric vehicle has additional semiconductor chips worth $450 (€410) on board. Experts predict that this will rise again by about $1000 (€910) as a result of automated driving. This makes the automotive market one of the drivers of growth in the semiconductor sector. Furthermore, key applications of the Internet of Things - such as artificial intelligence (AI), cyber security, smart cities, edge computing, smart homes, and connected industry - will drive future growth in the domain. With its semiconductor fabs in Reutlingen and Dresden, Bosch reckons that it is well prepared for these developments: "Our semiconductor know-how helps us not only to develop new automotive functions and IoT applications but also to continuously improve the chips themselves," Kroeger says.
Cleanroom of new 300mm Dresden fab being facilitized
In June 2018, Bosch laid the cornerstone for its new fab in Dresden. Its manufacturing operations will use 300mm-diameter wafers, yielding significantly more chips and correspondingly greater economies of scale than for 150mm and 200mm technologies. Bosch produces the latter in Reutlingen, where it will also manufacture the new SiC chips. The wafer fabs in Reutlingen and Dresden complement each other.
"We want to continuously expand our manufacturing operations," Kroeger says. In its wafer fab in Dresden, Bosch is investing about €1bn – the largest single investment in its history. Facilities are currently being installed in the cleanroom areas. The first associates are due to start work in spring 2020. Bosch will operate the plant as a carbon-neutral site.
Tags: SiC power devices
Visit: www.bosch.com