18 October 2019
Midsummer celebrates grand opening of new R&D facility
Midsummer AB of Järfälla, near Stockholm, Sweden – a provider of turnkey production lines as well as flexible, lightweight copper indium gallium diselenide (CIGS) thin-film solar panels for building-integrated photovoltaics (BIPV) – has celebrated the opening of its new solar energy technology R&D facility together with a new production line for building-integrated solar roofs. Sweden's first astronaut, professor Christer Fuglesang of KTH Royal Institute of Technology, formally inaugurated the new facility in the presence of solar energy industry leaders, media, clients and partners.
"During my stay at the ISS space station we were of course completely powered by the sun," commented Fuglesang. "It is good to have one of the best and most advanced research facilities based in Sweden."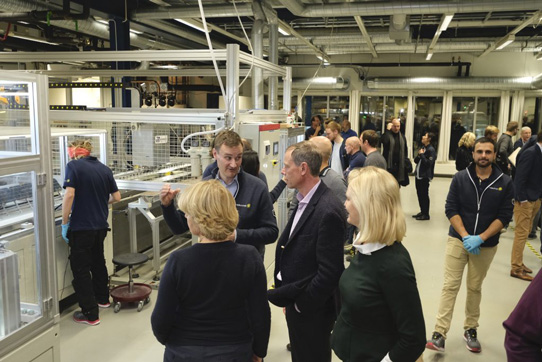 The new R&D facility includes a 1000m2 (10,800ft2) expansion of the firm's factory and head office with more than 100 staff. It will also house a new production line for energy-producing standing seam metal roofs for the Nordic consumer market. The 'Midsummer solar roof' brand was launched in April.
"At our new research and development facility, the future of 100% environmentally friendly renewable energy technology will be developed," says CEO Sven Lindström. "It will be one of the world's leading laboratories, perhaps the foremost, for research and development of production-friendly CIGS technologies and building-integrated photovoltaics," he reckons.
Midsummer strengthens its sales and marketing department
To strengthen its position in the Nordic market, Midsummer has expanded its sales & marketing department with three new area sales managers and a marketing manager for its BIPV product, Midsummer solar roofs and solar panels.
New marketing manager Joel Brink holds a degree in International Marketing from the University of Turku University, School of Business and Economics and was most recently retail performance & employer branding manager at BMW.
New area sales manager Europe (Solar Modules) Lars Norrman has more than 15 years of experience in sales and international marketing of Swedish products and services and Swedish technology. Most recently he was sales manager with responsibility for business development and sales in the business areas SunCool (thermal solar panels) and Enerstore (salt storage), focusing on Europe and Latin America.
Mikael Lindström is area sales manager for Midsummer solar roofs aimed at the private market in Sweden. He most recently held a position in sales support/IT/projects service at Hjältevadshus AB.
Daniel Månér has been recruited as area sales manager for Midsummer solar roofs targeting corporate customers in the Swedish market. He was previously area sales manager & customer service manager at Bauhaus & Co KB.
The sales & marketing focus for Midsummer solar roofs remains the Swedish private and corporate market, but sales of thin-film solar cells are also being strengthened with a focus on the European market for membrane and metal roofs for industrial and commercial properties.
"We have had a great interest from the market and will now be able to respond even better to it, further strengthen the brand and develop stronger customer relationships," says Christoffer Löfquist, sales manager for integrated solar roofs and solar panels.
Tags: CIGS Thin-film PV
Visit: www.midsummer.se