News
11 July 2006
ZTE uses Anadigics' InGaP-based PAs
Anadigics Inc announced that it is supplying indium gallium phosphide (InGaP) heterojunction bipolar transistor (HBT) power amplifiers (PAs) to ZTE for the F866 WCDMA handset. The handset features an integrated MP3 audio player, digital camera with video capabilities, and two-inch color screen.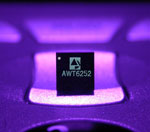 The AWT6252 IMT-band wideband CDMA (WCDMA) 4 mm by 4 mm PA module optimizes efficiency for different output power levels and offers a shutdown mode with low leakage current. It provides 41% power added efficiency at 27.5 dBm and 22% power added efficiency at 16 dBm.
Ali Khatibzadeh, senior VP and GM of Wireless Products at Anadigics, said: "Anadigics' 3G power amplifier portfolio is now enabling handsets, PDAs, data cards, and embedded modules from some of the world's largest manufacturers. We look forward to continue supporting ZTE in its rapidly expanding 3G business."
Visit: http://www.anadigics.com