News
18 July 2006
LEDs replace conventional bulbs in automotive 'firsts'
Philips Lumileds Lighting Company is supplying its Luxeon LEDs for a variety of exterior lighting applications on 2006 automobiles, enabling the first power LED backup, stop-tail, rear fog, mirror side-turn lamps and front turn signal lights.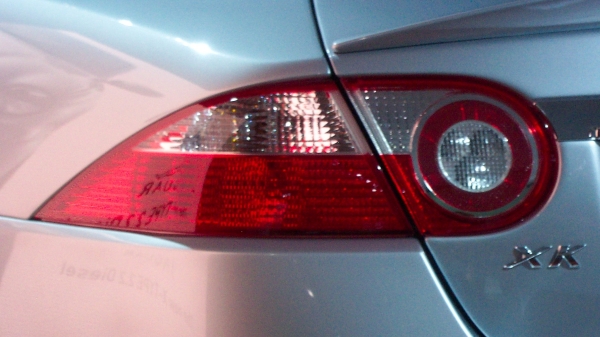 The first power LED backup lamps appear on both the 2006 Cadillac DTS (two Luxeon I emitters in each of two lamps) and the 2006 Jaguar XK (three Luxeon I emitters in a single lamp). Jaguar's XK model also boasts the first power LED rear fog lamp, incorporating three Luxeon I emitters.
Above: Jaguar's XK incorporates three Luxeon I emitters in its LED backup lamps. Below: Porsche's Turbo sporting the first power LED front turn signal.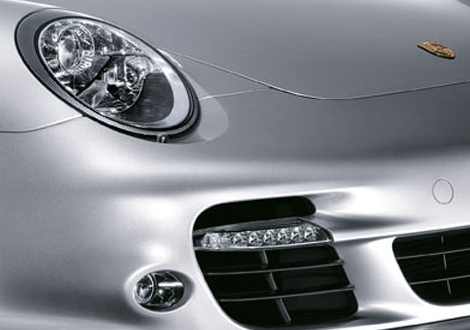 The 2006 Lexus IS features the first power LED stop-tail lamp in the U.S. market, with two Luxeon I LEDs, while the 2006 Porsche Turbo has the first power LED front turn signal, consisting of a six Luxeon I emitters.
Audi's 2006 Q7 features the first single, power-LED mirror side-turn lamp (on both side mirrors), using a Luxeon I LED. Audi has also expanded its use of Luxeon LEDs in its daytime running lamps, by incorporating the technology into its S6 model.
Apart from the mirror side-turn lamp, in each case the Luxeon LED assembly replaces a conventional 21 Watt incandescent bulb. According to Philips Lumileds, Luxeon power LEDs offer significant power savings compared to incandescent bulbs, and will last the lifetime of the vehicle.
"Given the design cycles for automotive lighting projects, we expect to see a significant number of vehicles utilizing Luxeon LEDs hit the road over the next few years," said Jason Posselt, marketing director for Automotive Products. "The Luxeon based systems are approaching cost parity with other systems, introduce new design opportunities for stylists, and minimize the weight and dimensions of each lighting solution, thereby further reducing power usage and costs."
Until now automotive headlamps have required the light output of conventional bulbs, but the company believes that this is set to change with its recent development of LEDs that surpass the luminance of halogen bulbs. See related news item.
Visit: http://www.philipslumileds.com