Editor:
Mark Telford (Email)
Tel:+44 (0)1869 811577
Cell:+44 (0)7963 085605
Fax:+44 (0)1242 2911482
Commercial Director /
Assistant Editor:
Darren Cummings (Email)
Cell:+44 (0)7990 623395
Fax:+44 (0)1242 2911482
Advertisement Manager:
Jon Craxford (Email)
Tel:+44 (0)207 1939749
Cell:+44 (0)7989 558168
Fax:+44 (0)1242 2911482
News
26 July 2006
Dr Robin Johnson joins STS as COO
Surface Technology Systems plc (STS), of Newport, Wales, UK has appointed Dr Robin Johnson as its interim Chief Operating Officer, effective immediately.
Johnson received his PhD in Solid State Physics from the University of East Anglia, before completing an MBA at Kingston Business School, where he specialized in International business and management of Innovation. Since then, among other positions, he has been president of a component manufacturing company in North America.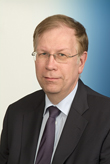 Of his new position, Johnson commented: "The time between research and volume production is getting shorter and shorter for both STS and our customers. Through capitalising on the opportunities new technologies offer I intend to bring strong competitive advantage to STS that will benefit our customers globally."
STS' new COO, Dr Robin Johnson.
John Saunders, STS' CEO, said of Johnson: "His impressive track record at creating productive, efficient companies makes him a strong addition to our team. On a personal level, I am looking forward to working closely with Robin over the next few months as we continue to take new products from R&D through to production and capitalise on the strong momentum we have gained to date globally."
Visit: http://www.stsystems.com