News
29 June 2006
Mimix introduces new InGaP HBTs for WiMAX applications
Mimix Broadband has introduced a family of internally pre-matched power amplifiers (PAs) for linear WiMAX applications. The devices, CHV2707, CHV2710 and CHV2711, operate at 700 MHz, 2.5 GHz and 3.5 GHz respectively, and are fabricated using an InGaP high voltage HBT process. They include on-chip diodes for ESD protection, achieve 11 dB of gain and less than 2.5% EVM at 30 dBm output power, with an OFDM input signal and a peak to average ratio (PAR) of 9 dB. The devices operate off a single supply voltage up to 12V and include internal active bias circuitry. They also offer the added feature of analog adjustment of bias current to address a variety of applications.
"The complex data formats associated with WiMAX signals make it essential that these amplifiers provide exceptional linearity at the highest data transmission format, and that they are adjustable when lower data formats are used. By delivering 1W average power under maximum data transmission, including on-chip bias circuitry, and providing a separate bias current adjustment in a standard QFN plastic package, we provide our broadband customers with unparalleled performance, flexibility and cost savings," said Damian McCann, CTO of Mimix Broadband Inc.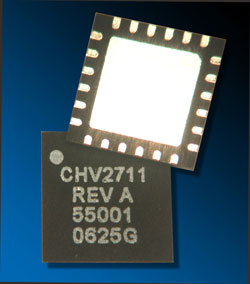 Datasheets and additional product information can be obtained from the Mimix Broadband.
Visit:
http://www.mimixbroadband.com