News
23 June 2006
OIPT launches FlexAL ALD system
Oxford Instruments Plasma Technology (OIPT) has launched its new FlexAL atomic layer deposition (ALD) tool, following the completion of beta testing at the Eindhoven University of Technology (TU/e).
ALD technology can create ultra-thin films on nanometre and sub-nanometre scales for advanced semiconductor applications. And, according to OIPT, it has the "unique" ability to deposit material conformally into high aspect ratio features.
FlexAL systems enable low temperature deposition, high-density films and high film purity, while giving thermal ALD processing capability in the same system to maximise the range of processes and materials. A range of material processes have already been developed using the system, including: TiN, HfO2 high-? dielectric, Al2O3 deposition down to room temperature and single-metal Ru. The systems can handle small sample size materials through to 200 mm wafers. OIPT is currently conducting sample trials for potential customers.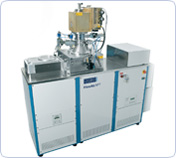 Oxford Instruments' ALD applications specialist, Chris Hodson, said: "The ability to deposit highly dense, pinhole-free and conformal thin films at low temperatures by plasma ALD in the FlexAL process tools enables not only semiconductor applications, but others such as the encapsulation of organic and temperature-sensitive devices such as organic LEDs (OLEDs) and wear-resistance coating of micro-electromechanical systems (MEMS). Very low-resistivity nitride and metal films have been achieved, and the use of plasma ALD allows us excellent control of material stoichiometry."
Visit: http://www.oxford-instruments.com
Contact John Burgoyne: john.burgoyne@oxinst.co.uk